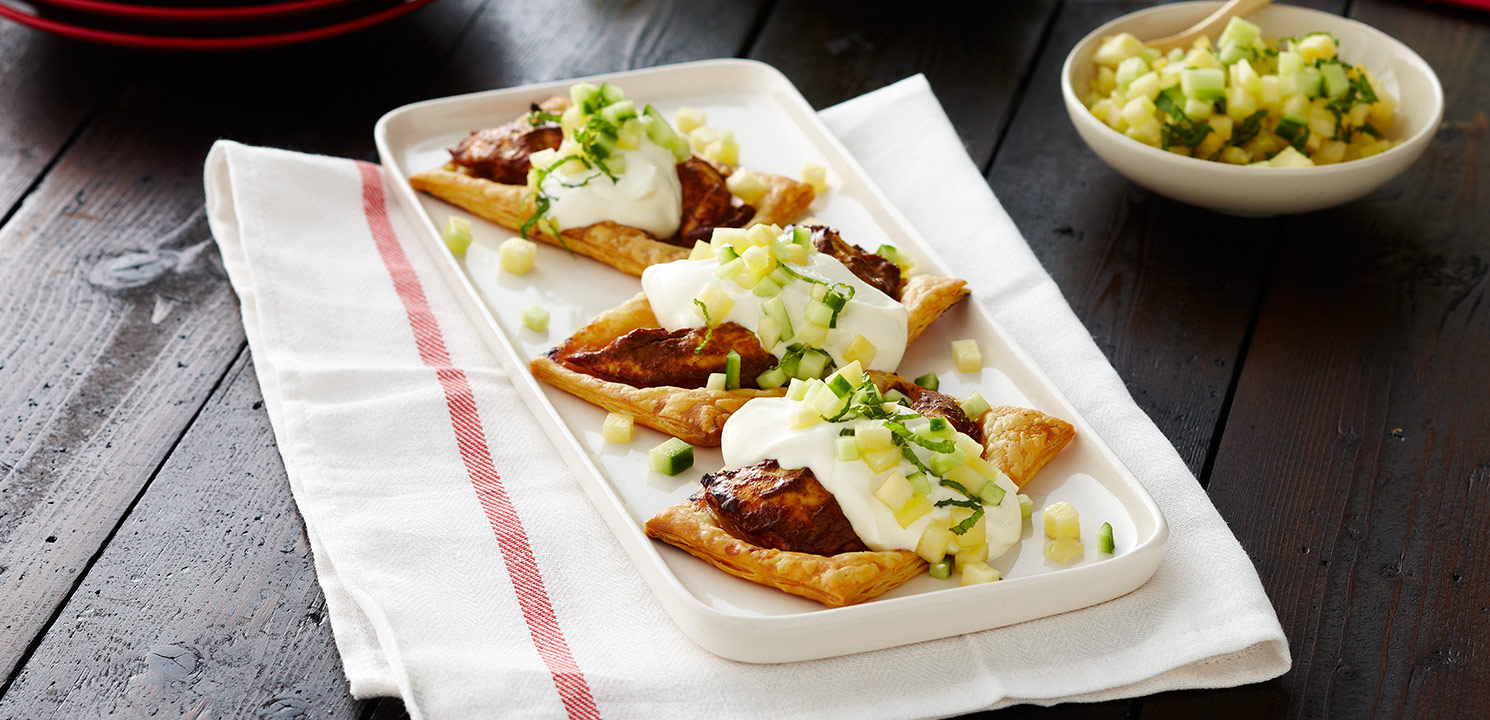 Mains
Tandoori Spiced Chicken Tarts with Pineapple and Cucumber Salsa
Prep 15 mins. /Cook 20 mins.
Serves 12
Easy
Tandoori Spiced Chicken Tarts with Pineapple and Cucumber Salsa
Method
---
Note: this recipe requires an additional 60 minutes for marinading.

Combine yogurt, tomato paste, garlic and spices in a large bowl. Add the chicken tenderloins and coat with spice mixture. Cover and refrigerate for 1 hour.

Cut each sheet of pastry into 6 rectangles and place on 2 lightly buttered baking trays. Top each rectangle with chicken and drizzle with melted butter. Bake at 200°C for 15-20 minutes or until chicken is cooked and pastry golden brown.

Toss togther the pineapple, cucumber and mint in a bowl. Dollop remaining yogurt over warm tartlets and sprinkle with pineapple and cucumber salsa. Serve immediately.
More Tips
These tarts make a great light summery entree and are quick to put together.
Tarts can be assembled, drizzled with butter and refrigerated up to 2 hours prior to cooking, remove from fridge 20 minutes before cooking.
To make smaller cocktail tartlets, roughly chop chicken before coating in the spice mixture and use to top smaller squares of pastry.
Add chopped mango or coriander to the salsa for something different!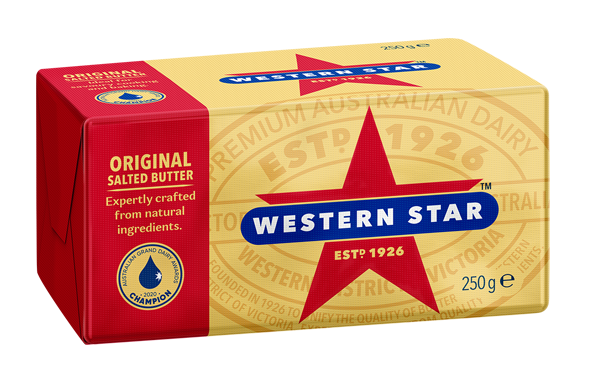 IN THIS RECIPE
Original Salted Butter
Western Star is Australia's favourite butter. It's a classic, pure creamery butter with a rich satisfying, five-star taste. Winner of Champion Butter at the 2019 Australian Grand Dairy Awards, this product sets the benchmark by which all other butters are judged. Expertly crafted from only two natural ingredients, cream and salt.
LEARN MORE
More Mains recipes
Traffic light vegetables
A great side dish for kids. Cut zucchini, carrot and red capsicum into thin sticks or rounds (snow peas are great too), then sauté in butter and garlic until tender and fragrant.