Method
---
Spread bread on both sides with some of the butter. Toast bread on both sides in a preheated frypan until golden, set aside.

Add remaining butter and garlic to frypan until butter is foaming, add tomatoes, chilli and season to taste, cook over high heat for 5-8 minutes until slightly caramelised and juicy.

Mound tomato mixture onto each slice of bread, sprinkle with feta and basil leaves and season with pepper. Serve warm.
More Tips
A mixture of coloured cherry tomatoes makes a real difference to the presentation of this dish, but it tastes just as delicious with regular cherry tomatoes.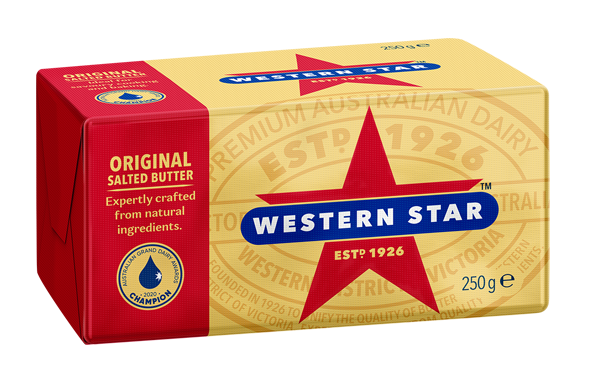 IN THIS RECIPE
Original Salted Butter
Western Star is Australia's favourite butter. It's a classic, pure creamery butter with a rich satisfying, five-star taste. Winner of Champion Butter at the 2019 Australian Grand Dairy Awards, this product sets the benchmark by which all other butters are judged. Expertly crafted from only two natural ingredients, cream and salt.
LEARN MORE
More Snack, Sides and Starters recipes
A new BBQ favourite
Stand out at your next barbecue by making a quick basting butter. Combine melted butter with flavours of choice; try chilli, garlic, lime and coriander. Brush over cooked meats or seafood as soon as they come off the barbecue for a mouth-watering flavour kick.
Croque Monsieur with Rosemary Butter
Croque Monsieur with Rosemary Butter made with Western Star Original Butter..