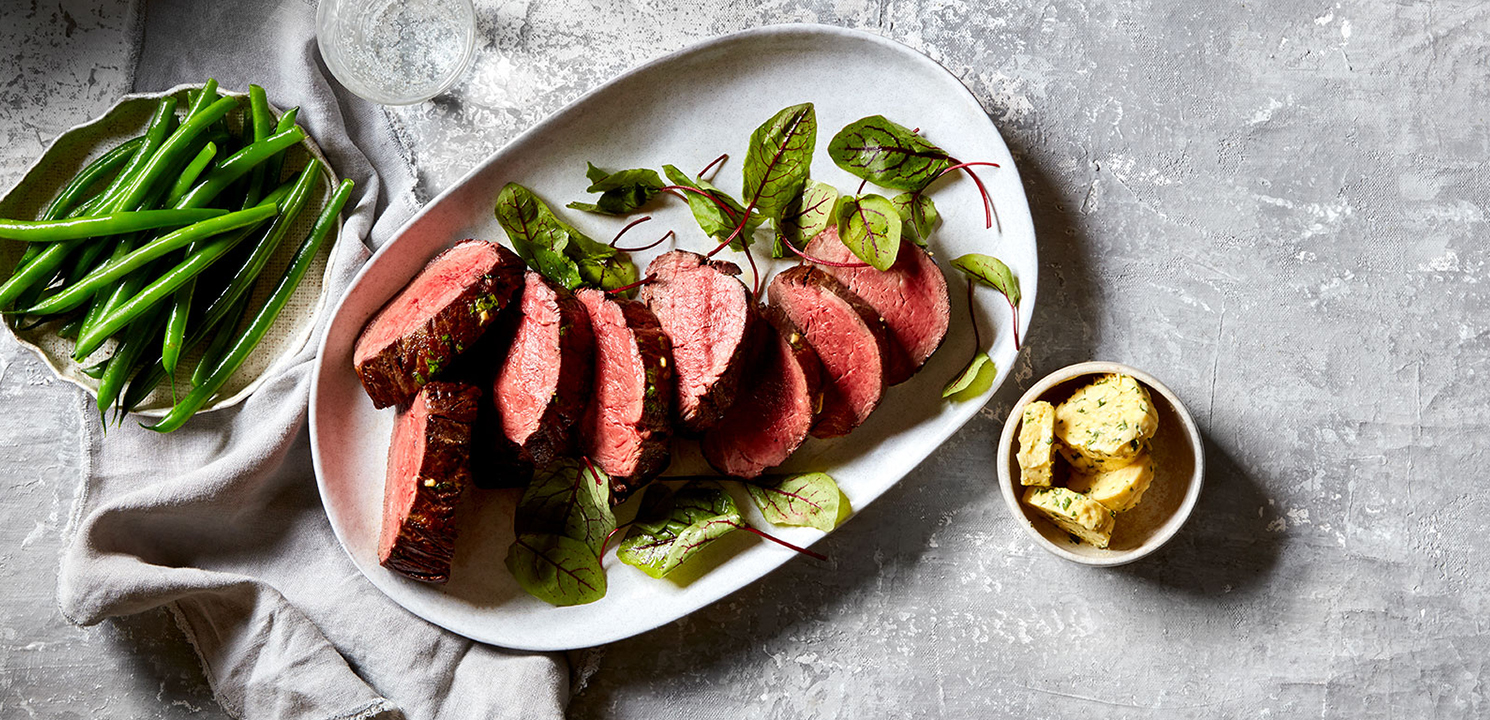 Mains
Whole Roasted Eye Fillet with Mustard, Parsley and Garlic Butter
Prep 10 mins. /Cook 30 mins.
serves 8-10
Easy
Whole Roasted Eye Fillet with Mustard, Parsley and Garlic Butter
Method
---
Preheat oven to 180C.

Place mustard, parsley, garlic and butter into a medium size bowl and mix well until combined. Shape into a sausage shape and wrap in baking paper twisting the ends of the paper to seal. Refrigerate for 30 minutes.

Season the eye fillet generously with salt and pepper and drizzle with olive oil. Heat a large heavy based pan on high heat. When hot add the fillet and sear until brown on all sides.

Place beef onto a large heavy based baking tray and place into the oven for 15 minutes for medium rare (or longer depending on your cooking preference). Remove from the oven, add a few knobs of flavoured butter over the fillet and allow to melt while resting for 8 minutes before slicing into thick slices. Serve hot alongside extra butter.
More Tips
Any remaining butter can be stored up to a week in the fridge.
Serve with warm seasonal vegetables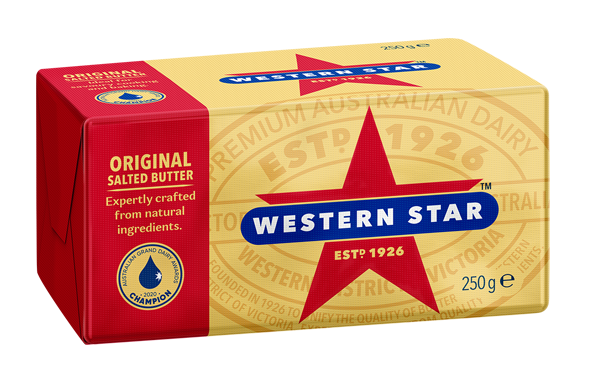 IN THIS RECIPE
Original Salted Butter
Western Star is Australia's favourite butter. It's a classic, pure creamery butter with a rich satisfying, five-star taste. Winner of Champion Butter at the 2019 Australian Grand Dairy Awards, this product sets the benchmark by which all other butters are judged. Expertly crafted from only two natural ingredients, cream and salt.
LEARN MORE
More Mains recipes
Dry roast chicken?
Avoid a dry chicken by stuffing some flavoured butter under the skin before roasting. Simply ease your fingers under the skin of the chicken breast to create a pocket (without breaking through) and fill it with softened flavoured butter. The butter bastes and flavours the chicken as it cooks leaving you with a moist and tender roast!