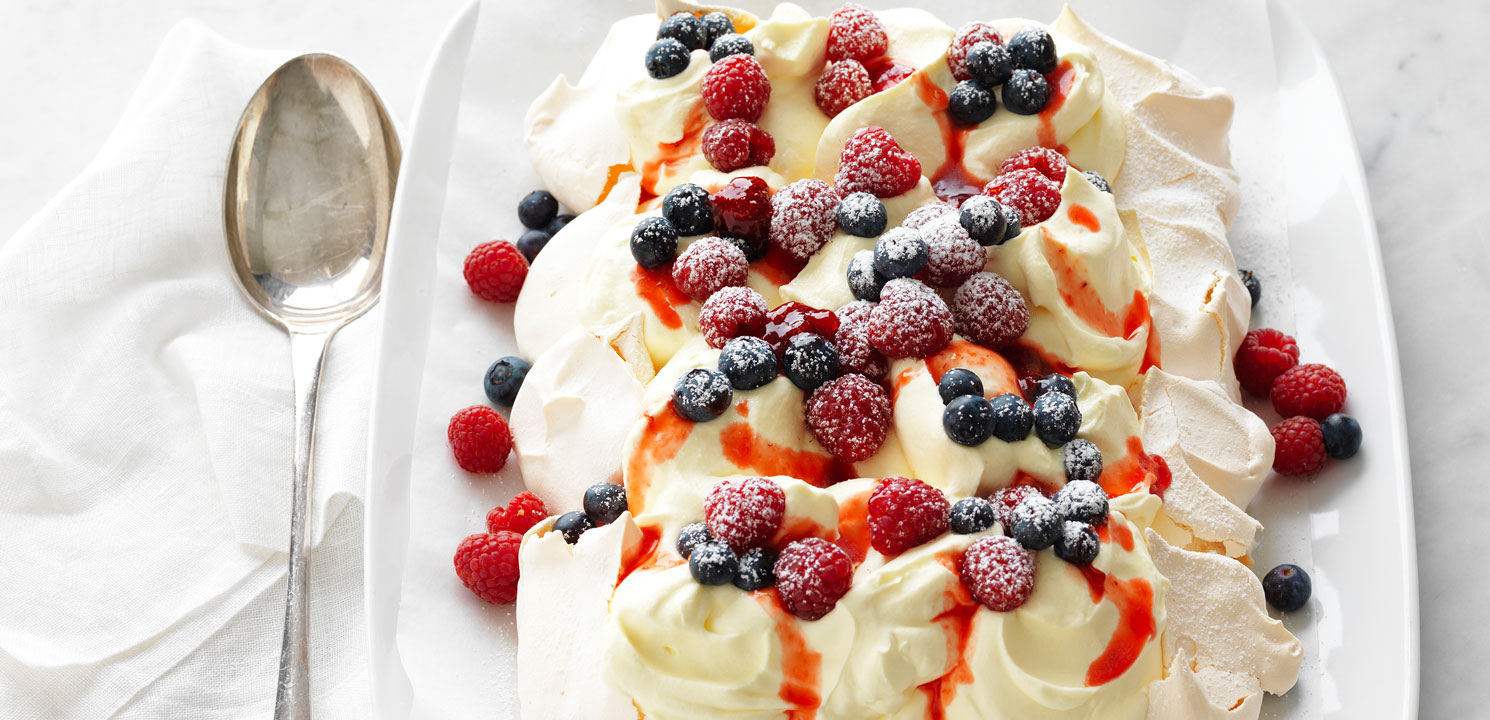 Baking & Desserts
Berries and Cream Tray Pavlova
Prep 20 mins. /Cook 1h 0 mins.
Serves 8
Average
Berries and Cream Tray Pavlova
Method
---
Pavlova
Preheat oven to 150°C (fan forced).

Place the egg whites in the bowl of an electric mixer and whisk on high speed until stiff peaks form.

Gradually add the sugar, 1 tablespoon at a time, waiting 30 seconds before adding another tablespoon. Once all the sugar is added, whisk for a further 6 minutes or until the mixture is stiff and glossy.

Add the vinegar and whisk for a further 2 minutes or until glossy and combined.

Place spoonfuls of the meringue onto a large baking tray lined with non-stick baking paper. Reduce oven temperature to 120°C (fan forced) and cook for 1 hour. Turn the oven off and allow the pavlova to cool completely in the oven.
Quick strawberry jam
Put the strawberries, sugar and vanilla in a small saucepan over medium high heat. Bring to the boil and cook for 6-7 minutes, or until thickened and jammy. Allow to cool completely.
Topping
Put the Western Star Thickened Cream and vanilla in a large bowl and whisk to soft peaks.

Serve the pavlova topped with cream, strawberry jam, raspberries and blueberries. Dust with icing sugar.
More Tips
You can substitute the homemade strawberry jam for ½ cup store-bought strawberry jam stirred together with 1 teaspoon warm water.
You can also use store-bought meringue nests.
More Baking & Desserts recipes
Forgotten to soften the butter?
Grate butter coarsely, spread onto baking paper and stand for 10 minutes before using. Alternatively chop into 2cm cubes, microwave on 30% power in 10 second bursts until just softened.