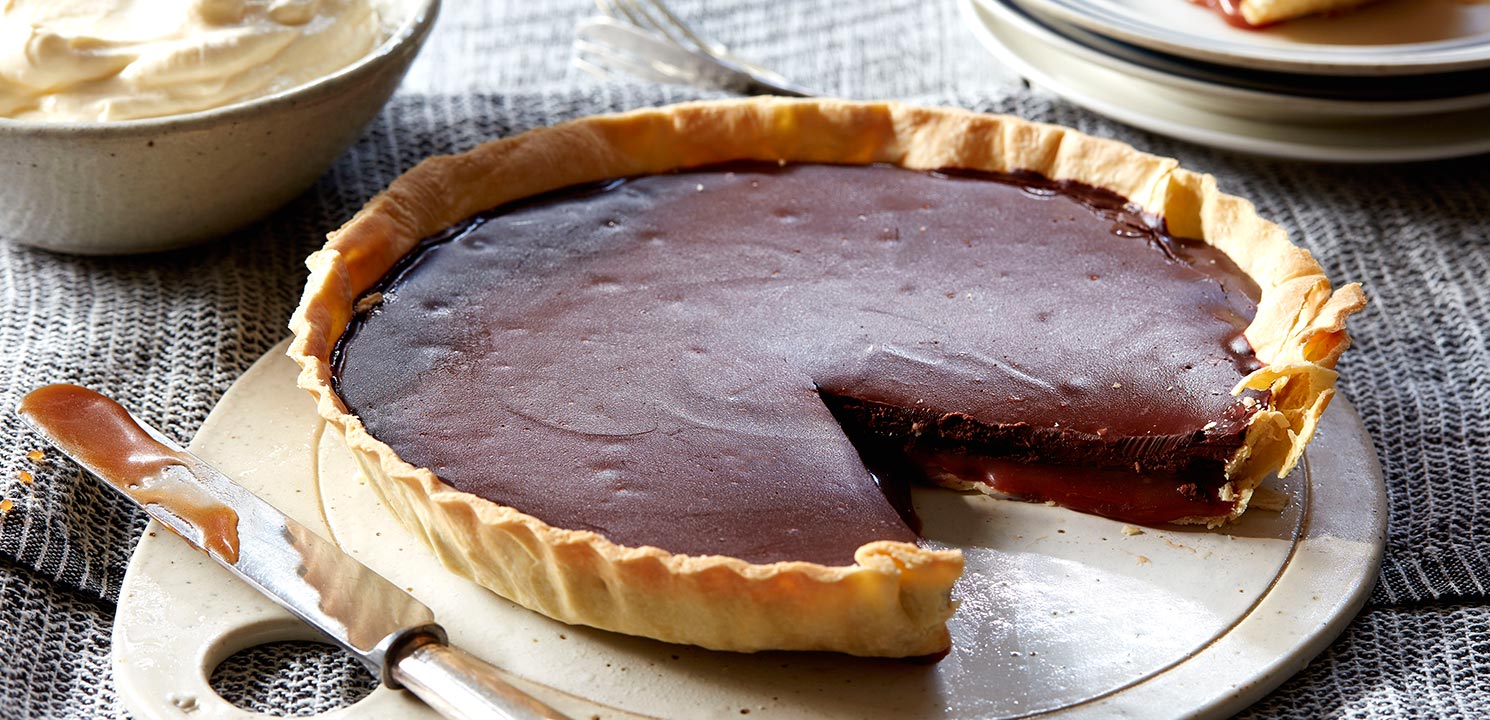 Baking & Desserts
Chocolate and Caramel Tart
Prep 1h 0 mins. /Cook 30 mins.
serves 6-8
Easy
Chocolate and Caramel Tart
Method
---
Lightly grease a 20 cm tart tin with a removable base and set aside. Preheat oven to 180°C.

Roll out the pastry until it is about 30 cm in diameter. Carefully drape the pastry over the tin, and then gently press into the base and sides of the tin, leaving the excess pastry to overhang. Transfer onto a baking tray and refrigerate for 30 minutes

When the pastry has chilled, remove from the refrigerator and line with a piece of baking paper. Fill with baking weights (or rice), and transfer to the oven for 20 minutes or until the sides begin to turn golden. Carefully remove the weights and baking paper, and then bake for another 5 – 10 minutes or until cooked and lightly golden. Remove from the oven and once cool, turn the pastry from the tin onto a serving platter, and set aside.

To make the caramel filling, heat the sugar and water in a medium heavy based saucepan over a medium-high heat. Cook without stirring until the sugar dissolves and turns a light golden colour. Remove the pan from the heat and add the cream. Be careful as the mixture with bubble. Return the mixture to the heat and cook for a further 1 - 2 minutes.

Remove the pan from the heat, and then add the butter and salt and stir though. Leave the caramel to cook for 15 minutes and then pour into the prepared tart case. Place into the refrigerator to chill for 4 hours.

Once the caramel has chilled, prepare the chocolate ganache. Place the chopped chocolate into a medium bowl and set aside. Heat the cream in a small saucepan over a medium heat. Once the cream just begins to simmer, remove from the heat and pour the cream over the chocolate. Let the mixture sit for 1 minute while the chocolate begins to melt, then stir until smooth. Set aside for 5 minutes before pouring the ganache over the chilled caramel. Spread the ganache evenly and then return the tart to the refrigerator.

Chill for 2 hours before serving chilled.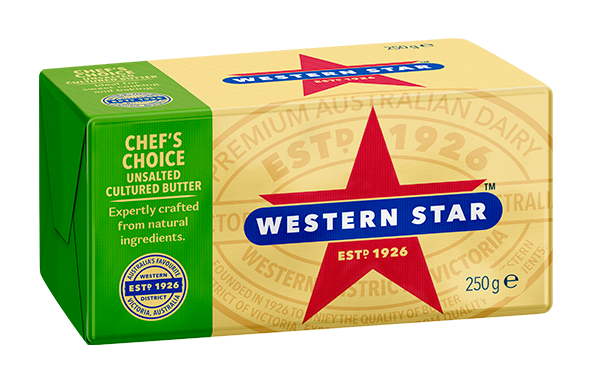 IN THIS RECIPE
Chef's Choice Unsalted Cultured Butter
Western Star Chef's Choice Premium Cultured Unsalted is a premium quality butter that's noted for its extra creamier continental taste and texture. A creamier fresh tasting butter that's versatile and ensures great results every time.
LEARN MORE
More Baking & Desserts recipes
Chocolate Brownies
Chocolate Brownies made with Western Star Salt Reduced Butter.
Which butter should I use to make sweet pastries?
We recommend Chef's Choice - it's higher fat content and creamier finish makes it ideal for sweet pastries.