Method
---
Preheat the oven to 180°C. Line a 12-cup muffin tin with paper liners and set aside.

In a large bowl, whisk together the flour, baking powder, baking soda, salt, cinnamon, ginger and nutmeg. Set aside.

In a separate large bowl, whisk together the melted butter, brown sugar, egg, yoghurt and vanilla. Add the carrots and stir until mixed. Add the dry ingredients to the wet ingredients, and continue to mix until all ingredients are incorporated.

Divide the batter evenly between the muffin tins. Transfer into the oven to bake for 20-25 minutes or until a skewer inserted comes out clean.

Remove the cupcakes from the pan, and transfer onto a wire rack to cool completely.

To make the frosting, place all the ingredients in the bowl of an electric mixture and beat until smooth. Get the kids to help you spread the frosting over the cakes before serving for a yummy treat!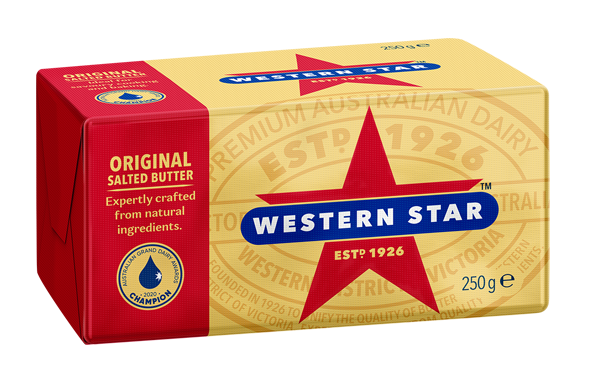 IN THIS RECIPE
Original Salted Butter
Salted butter is a versatile cooking staple. Expertly crafted at Cobden, Western Victoria, from only two natural ingredients, Australian cream and salt, to deliver a classic, pure creamery butter with a rich satisfying, five-star taste. This pure salted butter enhances the flavour of food while adding an exceptional creamy texture. Winner of Champion Butter at the 2020 Australian Grand Dairy Awards, this product sets the benchmark by which all other butters are judged. Western Star has been Crafting Butter in Victoria since 1926 when the leading butter makers in the Western District came together. Over 95 years later and trusted for generations, Western Star truly is Australia's Favourite.
LEARN MORE
More Baking & Desserts recipes
Forgotten to soften the butter?
Grate butter coarsely, spread onto baking paper and stand for 10 minutes before using. Alternatively chop into 2cm cubes, microwave on 30% power in 10 second bursts until just softened.