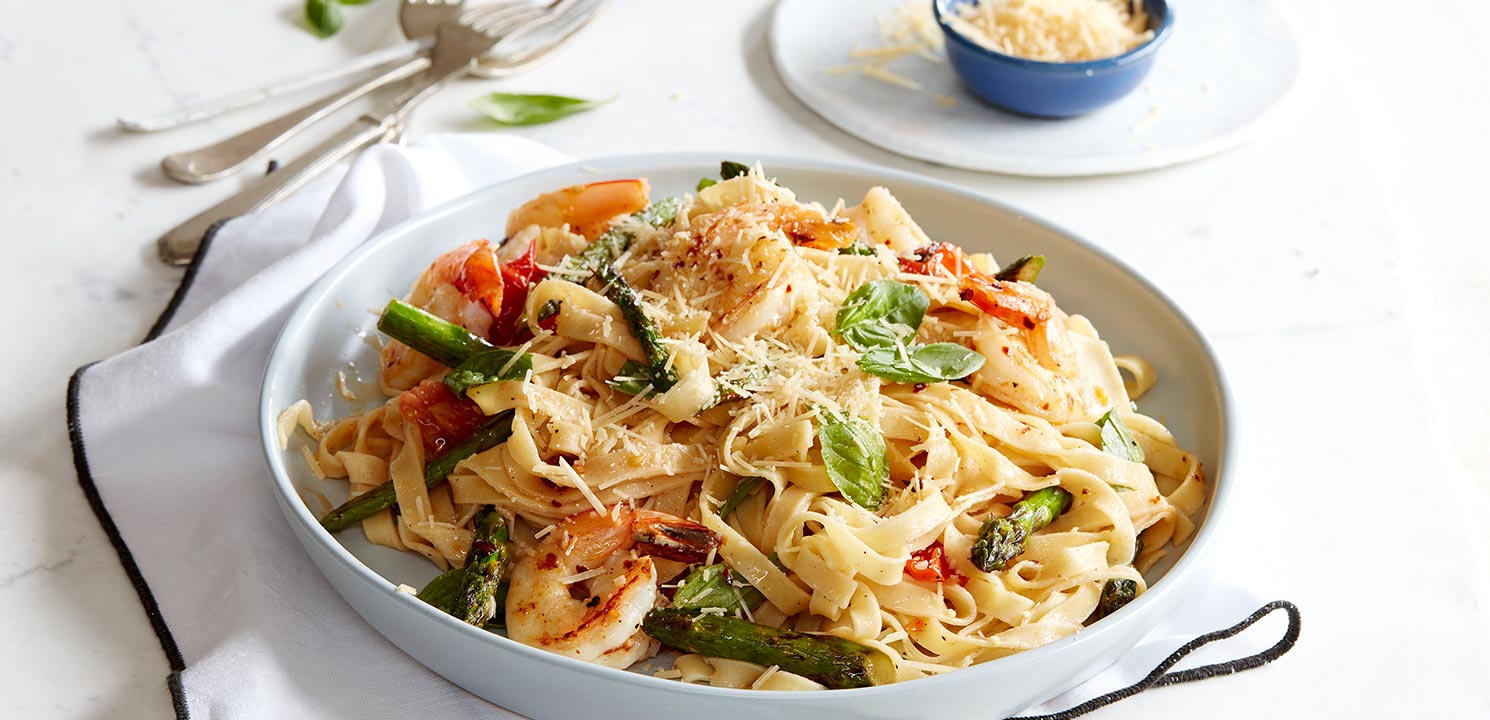 Mains
Chargrilled Asparagus and Tomato Fettuccine with King Prawns and Lemon Herb Butter
Prep 12 mins. /Cook 12 mins.
serves 4
Easy
Chargrilled Asparagus and Tomato Fettuccine with King Prawns and Lemon Herb Butter
Method
---
Preheat the BBQ to high or place a large grill pan over a high heat.

While the grill is heating, toss the asparagus and tomatoes in 2 tbsp of olive oil, and then season with salt and pepper. Once the grill is hot, cook the vegetables until charred, turning them regularly. Remove from the grill and place into a large bowl.

Meanwhile, cook the fettuccini according to packet instructions, drain and set aside.

5 minutes before the pasta is cooked, place a large fry pan over a medium high heat. Add 1 tbsp olive oil to the pan and then add the garlic, chilli and prawns. Cook the prawns for 4 minutes or until golden and cooked through.

Add the drained pasta to the prawns, along with the asparagus, tomatoes, parmesan, and butter. Toss all ingredients together until the butter melts. Remove the pan from the heat and stir through the basil leaves.

Season to taste, and then serve immediately.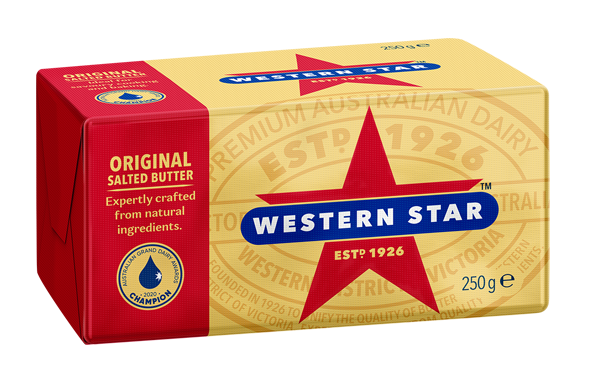 IN THIS RECIPE
Original Salted Butter
Western Star is Australia's favourite butter. It's a classic, pure creamery butter with a rich satisfying, five-star taste. Winner of Champion Butter at the 2019 Australian Grand Dairy Awards, this product sets the benchmark by which all other butters are judged. Expertly crafted from only two natural ingredients, cream and salt.
LEARN MORE
More Mains recipes
Cooking rice by absorption method?
Add a knob of butter to the water for a delicious buttery flavour and separated grains. Especially great served with curries?
Leek and Blue Cheese Quiche
Leek and Blue Cheese Quiche cooked with Western Star Original Butter.