Method
---
Place the stock into a medium saucepan and place over a medium heat. Bring to a simmer, and then remove the pan from the heat and cover with a lid to keep hot.

Heat 2 tbsp of the olive oil in a large pan over a medium heat. Add the chicken pieces and fry for 4-5 minutes or until the chicken has browned on all sides. Transfer the chicken to a bowl and set aside.

Add the remaining oil to the same pan and fry the onion, garlic and bacon for 2 minutes or until the onion has softened. Add the rice and mushrooms and stir for a further 1-2 minutes. Pour in the wine and simmer for 5 minutes or until the liquid has almost completely evaporated. Place the chicken back into the pan, and add a ladle of stock and stir until the rice absorbs all the liquid. Continue to add one ladle at a time, stirring constantly to ensure each ladle of stock is absorbed before adding another.

Once the rice is just cooked and all the stock has been absorbed, remove the pan from the heat and stir in the butter and Romano cheese, and season with salt and pepper. Cover the risotto with a lid and allow to sit for 2 minutes

Stir through the chopped parsley and serve immediately with an extra grating of Perfect Italiano Romano Cheese.
More Tips
Use other varieties of mushrooms such as button, swiss brown or flat mushrooms or even try a combination of all three.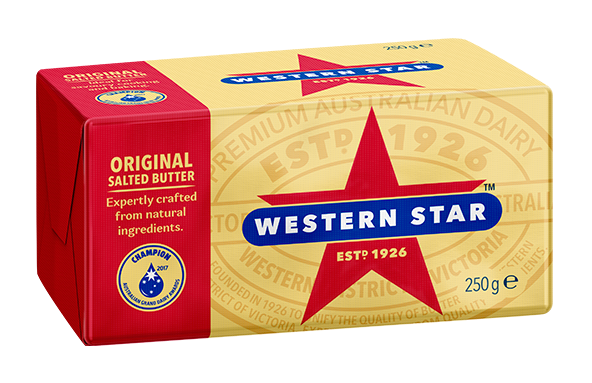 IN THIS RECIPE
Original Salted Butter
Western Star is Australia's favourite butter. It's a classic, pure creamery butter with a rich satisfying, five-star taste. Winner of Champion Butter at the 2019 Australian Grand Dairy Awards, this product sets the benchmark by which all other butters are judged. Expertly crafted from only two natural ingredients, cream and salt.
LEARN MORE
More Mains recipes
Forgot the garlic bread?
Combine Western Star spreadable with garlic, finely grated Parmesan cheese and chopped parsley and spread generously between slices of baguette. Wrap in foil and bake until golden and crunchy.