Method
---
Coat each tenderloin in combined butter and garlic mixture, and place a sage leaf on each. Wrap each tenderloin with a slice of prosciutto.

Heat a heavy based non stick frypan until hot and pan fry or BBQ tenderloins until cooked through.

Insert a skewer through each tenderloin prior to serving.
More Tips
A delicious pre-dinner appetiser or lunch idea when served with a simple spinach salad
Chicken can be assembled and refrigerated up to a day ahead, prior to cooking.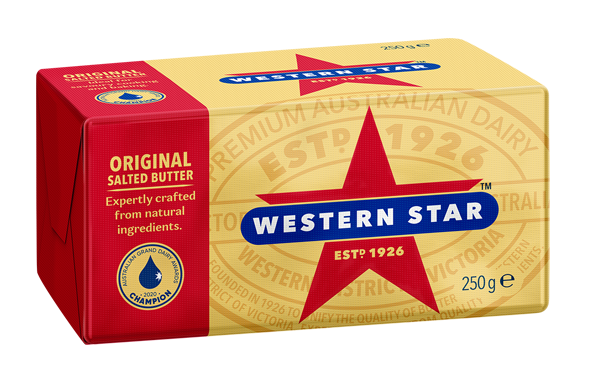 IN THIS RECIPE
Original Salted Butter
Western Star is Australia's favourite butter. It's a classic, pure creamery butter with a rich satisfying, five-star taste. Winner of Champion Butter at the 2019 Australian Grand Dairy Awards, this product sets the benchmark by which all other butters are judged. Expertly crafted from only two natural ingredients, cream and salt.
LEARN MORE
More Mains recipes
Chicken and Mushroom Risotto
Make Dinner a Winner with Chicken and Mushroom Risotto and Western Star™ Butter.
Reheating Hollandaise or Béarnaise sauce?
Never microwave! These are fragile emulsions and will split. Reheat by gently whisking over a double boiler on low heat. If the emulsion begins to split, try whisking in a spoonful of warm water, never add more butter.