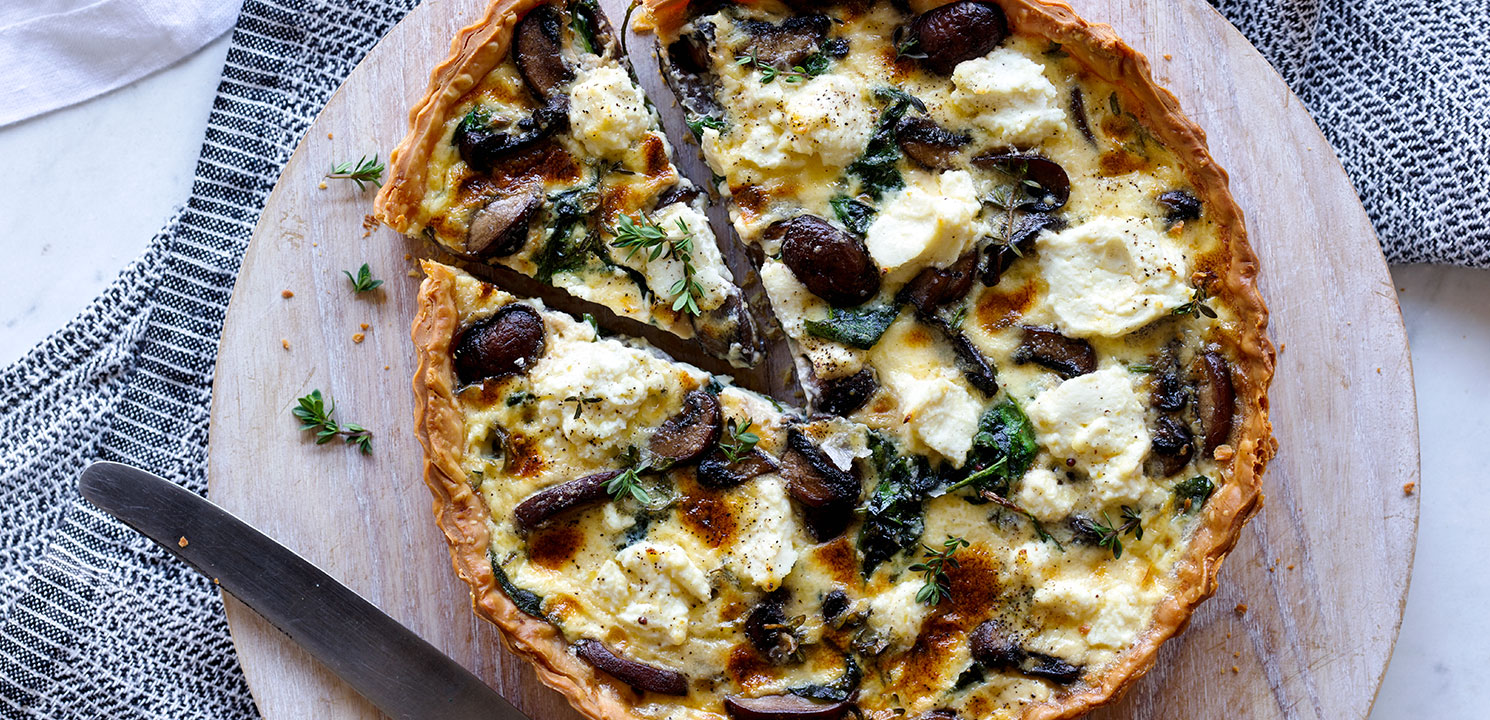 Mains
Spinach, Ricotta and Mushroom Quiche
Prep 15 mins. /Cook 1h 5 mins.
Serves 10
Average
Spinach, Ricotta and Mushroom Quiche
Method
---
Preheat the oven to 180°C. Grease a 25cm tart tin with Mainland Natural Butter.

Roll out the pastry onto a floured work surface and then line the tart tin. Wrap in cling wrap and chill in the fridge for 15 minutes.

Remove the pastry from the fridge, cover with baking paper, fill with baking beans and blind bake for 10-15minutes. Remove the beans and paper and bake for a further 2-5 minutes, until golden.

Place the mushrooms onto a baking tray, season with the thyme, salt and pepper. Drizzle with olive oil and bake for 5-7 minutes. Remove and set aside to cool.

Heat a large frying pan and cook the spinach in olive oil and nutmeg until just wilted.

Mix together the Perfect Italiano Ricotta and wholegrain mustard in a bowl.

Spread the ricotta mixture into the tart tin. Layer the spinach and place the mushrooms on top.

Whisk together the egg yolks and Western Star Cream in a bowl. Season with salt and peper and mix again. Pour mixture into the tart tin.

Bake for 40 minutes, until golden.

Serve warm or cold with a side salad.
More Mains recipes
Dry roast chicken?
Avoid a dry chicken by stuffing some flavoured butter under the skin before roasting. Simply ease your fingers under the skin of the chicken breast to create a pocket (without breaking through) and fill it with softened flavoured butter. The butter bastes and flavours the chicken as it cooks leaving you with a moist and tender roast!