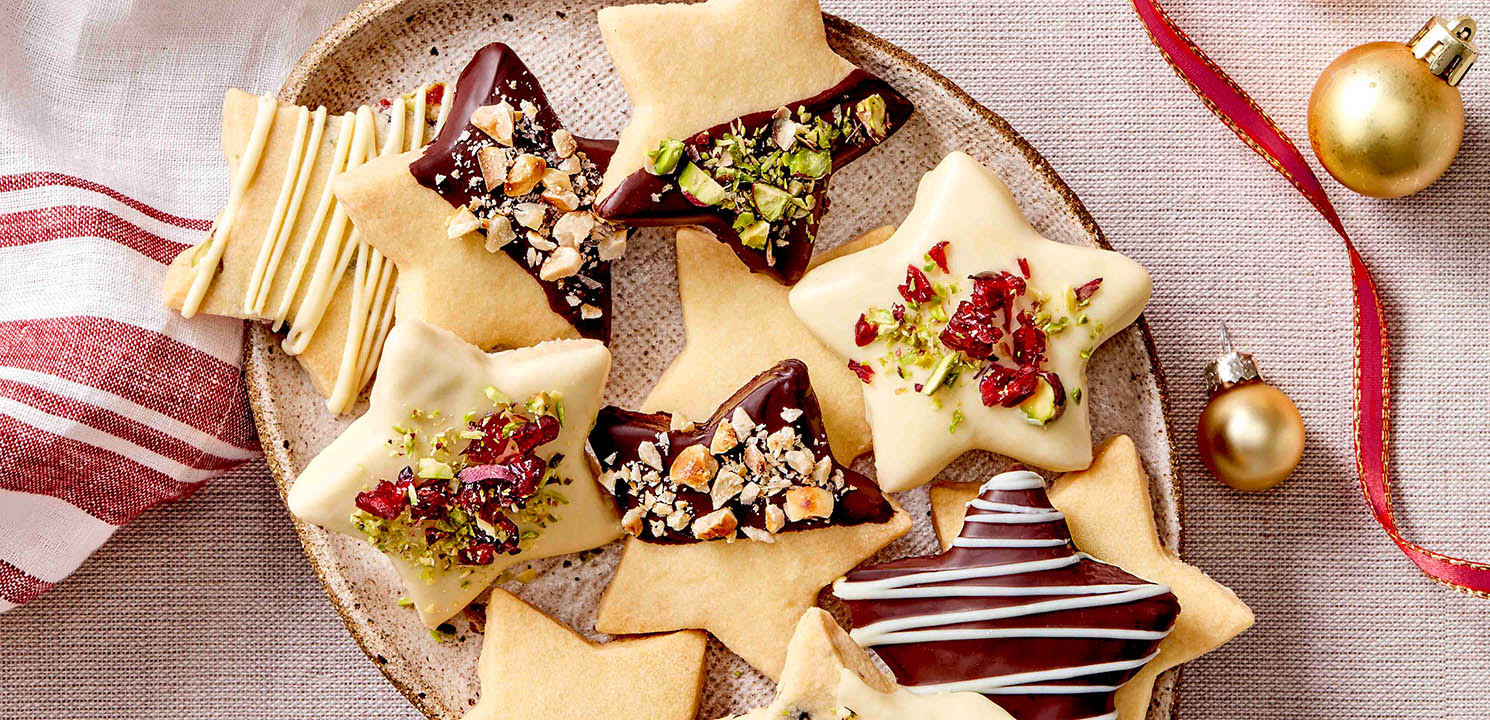 Baking & Desserts
Delicious Shortbread
Prep 20 mins. /Cook 30 mins.
biscuits 20
Easy
Delicious Shortbread
Method
---
Preheat oven to 160°C fan forced and line 2 baking trays with baking paper.

Process butter, icing sugar and both flours together in a food processor until mixture resembles fine breadcrumbs.

Press mixture together until it forms a dough. Divide dough in two.

Roll out dough between 2 sheets of non-stick baking paper until 5 mm thick.

Using a star shaped cookie cutter, cut shapes from dough. Transfer to prepared trays. Bake for 30 minutes or until dry and firm but still pale. Transfer to a wire rack to cool completely.

In 2 small bowls microwave the chocolate in 30 second intervals until melted, stirring in between.

Decorate the shortbread stars using the chocolate and any other desired decorations. Let the chocolate set before serving.
More Tips
Get creative with your chosen decorations. Toasted nuts and chopped dried fruits work beautifully.
Shortbread will keep in an airtight container for up to 1 month.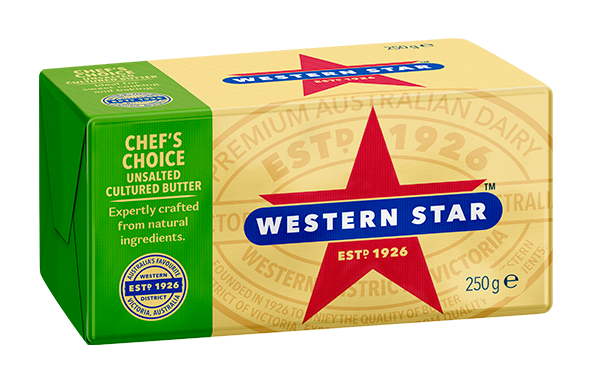 IN THIS RECIPE
Chef's Choice Unsalted Cultured Butter
When you really want your pastry and baking to shine, unsalted cultured butter delivers with that sought after creamier fresh tasting butter that is versatile and ensures great results every time. As an unsalted butter, Chef's Choice allows you full control over the seasoning of your dish. Winner of the Champion Butter award at the 2018 Australian Grand Dairy Awards, Western Star Chef's Choice Unsalted Cultured Butter is a premium quality butter, celebrated for its extra creamy continental taste and texture. Western Star has been Crafting Butter in Victoria since 1926 when the leading butter makers in the Western District came together. Over 95 years later and trusted for generations, Western Star truly is Australia's Favourite
LEARN MORE
More Baking & Desserts recipes
Forgotten to soften the butter?
Grate butter coarsely, spread onto baking paper and stand for 10 minutes before using. Alternatively chop into 2cm cubes, microwave on 30% power in 10 second bursts until just softened.