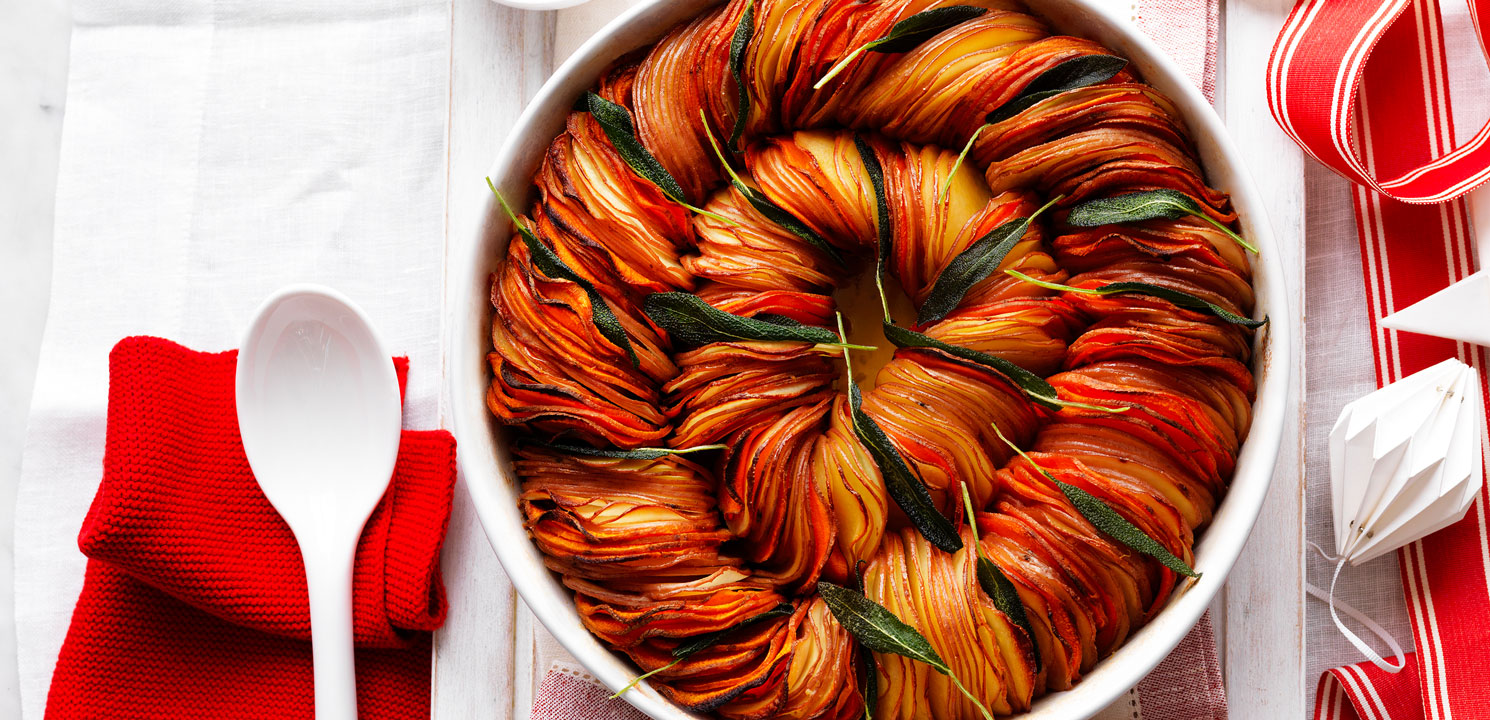 Snack, Sides and Starters
Garlic Roast Potato and Sage Wreath
Prep 20 mins. /Cook 1h 0 mins.
Serves 8-10 as a side
Average
Garlic Roast Potato and Sage Wreath
Method
---
Preheat the oven to 200°C (fan forced).

Put the potatoes and sweet potatoes in two separate large bowls. Mix the Western Star Spreadable Original Soft and garlic together in a bowl, season generously with the salt and pepper. Divide the garlic mixture between the potatoes and sweet potatoes, and toss to coat.

Using your hands, pile together 5-6 slices each of the potatoes and stack vertically along the inside edge of a large round baking dish. Continue adding vertical stacks of the combined potatoes, tucking in sage leaves at intervals, until you have a complete circle. Repeat with remaining ingredients to make another smaller circle inside the bigger circle.

Cook in the oven for 1 hour or until roasted and golden brown (see Tip).
More Tips
You can use any red-skinned potatoes including desiree or red royale. These are the best for baking.
We've added a few more sage leaves to the dish during the last 10 minutes of cooking for presentation.
If you notice potatoes browning quickly in the oven, cover loosely with foil for the first half an hour, then removing foil for final half an hour.
Serving suggestion: Serve with roast chicken, pork, lamb or beef, along with some steamed greens or a mixed leaf salad.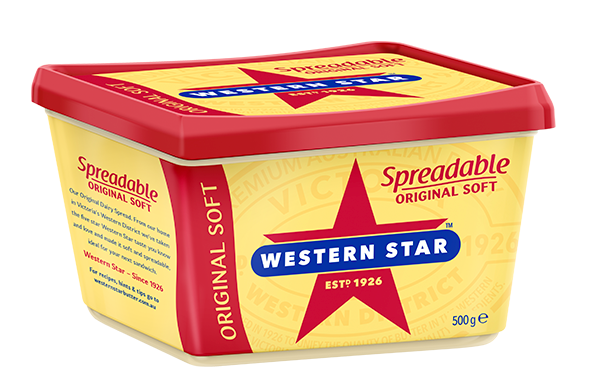 IN THIS RECIPE
Spreadable Original Soft
We've taken the five-star Western Star taste you know and love and made it soft and spreadable. Ideal for sandwiches, toast, pancakes and more.
LEARN MORE
More Snack, Sides and Starters recipes
Saute with butter
Melt butter on a medium heat. The butter must be hot otherwise it will be absorbed and the food becomes soggy rather than crispy. The food should "sizzle" when added to the pan.