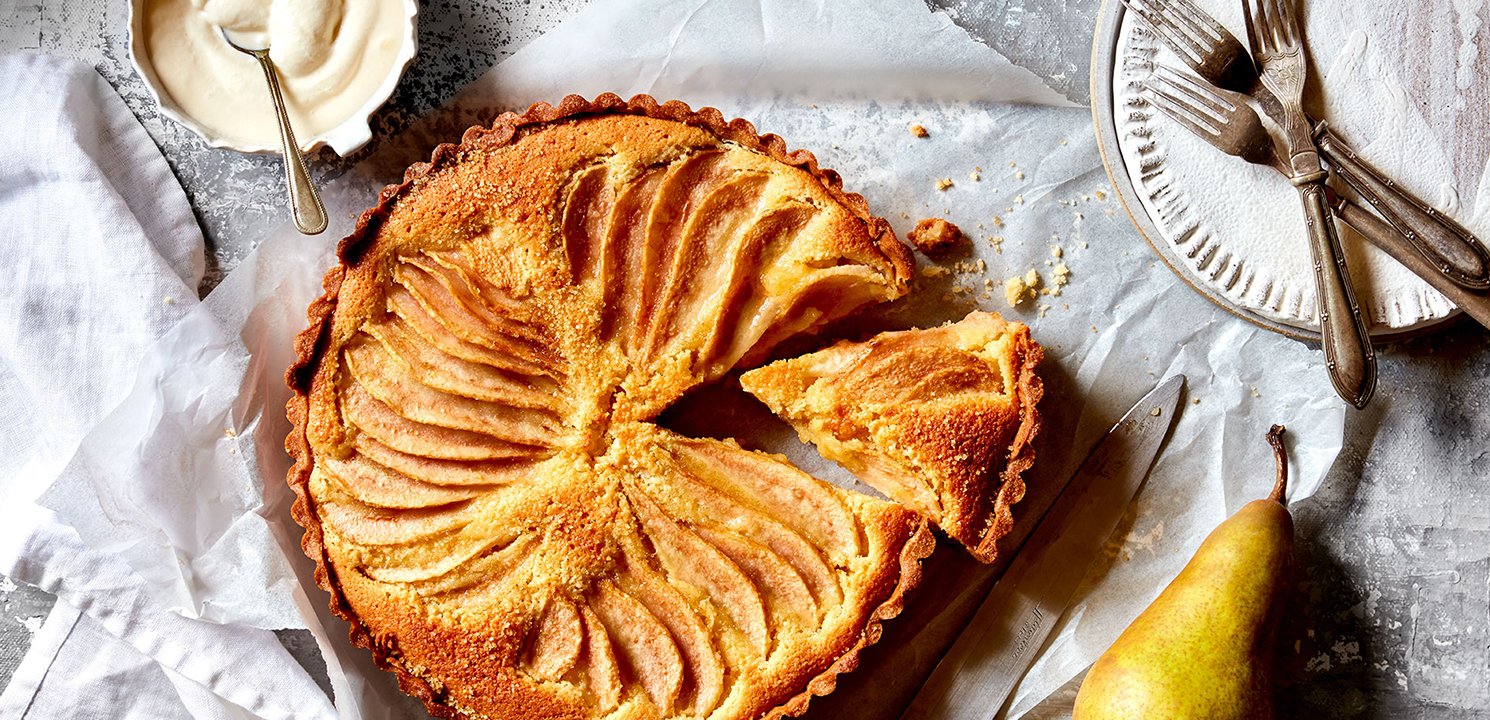 Baking & Desserts
Golden Pear Frangipane Tart with quick pastry
Prep 30 mins. /Cook 50 mins.
Serves 8-10
Easy
Golden Pear Frangipane Tart with quick pastry
Method
---
Preheat oven to 200C.

Place the flour, sugar, salt and butter into the base of a food processor and blitz until mixture resembles coarse breadcrumbs. Add the egg and blitz until mixture comes together and forms a dough. Shape into a disc, cover in plastic wrap and refrigerate for 30 minutes.

Once chilled, roll dough into a circle about 3-5mm thick. Lay over a 23cm fluted tart tin with a removeable base. Press gently to fit tart tin. Trim any excess pastry. Refrigerate for a further 30 minutes. Once chilled bake in preheated oven for 15 minutes or until slightly golden. Set aside to cool and turn down the heat of the oven to 180C.

Meanwhile to make filling place the almonds, flour and sugar into the food processor and blitz until it resembles a powder. Add butter and blitz again until combined. Add the eggs and process for 2 minutes until creamy.

Transfer mixture into tart shell and smooth over with a spatula. Arrange the pear on top of frangipane filling. Sprinkle over extra caster sugar.

Bake for 30-35 minutes or until firm and golden. Remove from oven and allow to cool before removing from the tart tin. Serve alongside freshly whipped cream.
More Tips
Try using other fruits instead of pear such as apple, nectarine and peach.
Serve with extra thickened cream, whipped and a generous handful of seasonal berries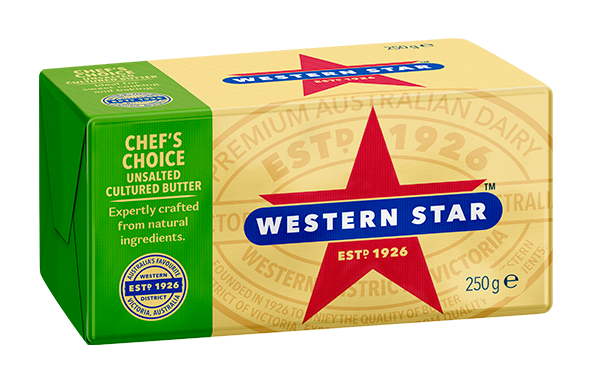 IN THIS RECIPE
Chef's Choice Unsalted Cultured Butter
When you really want your pastry and baking to shine, unsalted cultured butter delivers with that sought after creamier fresh tasting butter that is versatile and ensures great results every time. As an unsalted butter, Chef's Choice allows you full control over the seasoning of your dish. Winner of the Champion Butter award at the 2018 Australian Grand Dairy Awards, Western Star Chef's Choice Unsalted Cultured Butter is a premium quality butter, celebrated for its extra creamy continental taste and texture. Western Star has been Crafting Butter in Victoria since 1926 when the leading butter makers in the Western District came together. Over 95 years later and trusted for generations, Western Star truly is Australia's Favourite
LEARN MORE
More Baking & Desserts recipes
Forgotten to soften the butter?
Grate butter coarsely, spread onto baking paper and stand for 10 minutes before using. Alternatively chop into 2cm cubes, microwave on 30% power in 10 second bursts until just softened.