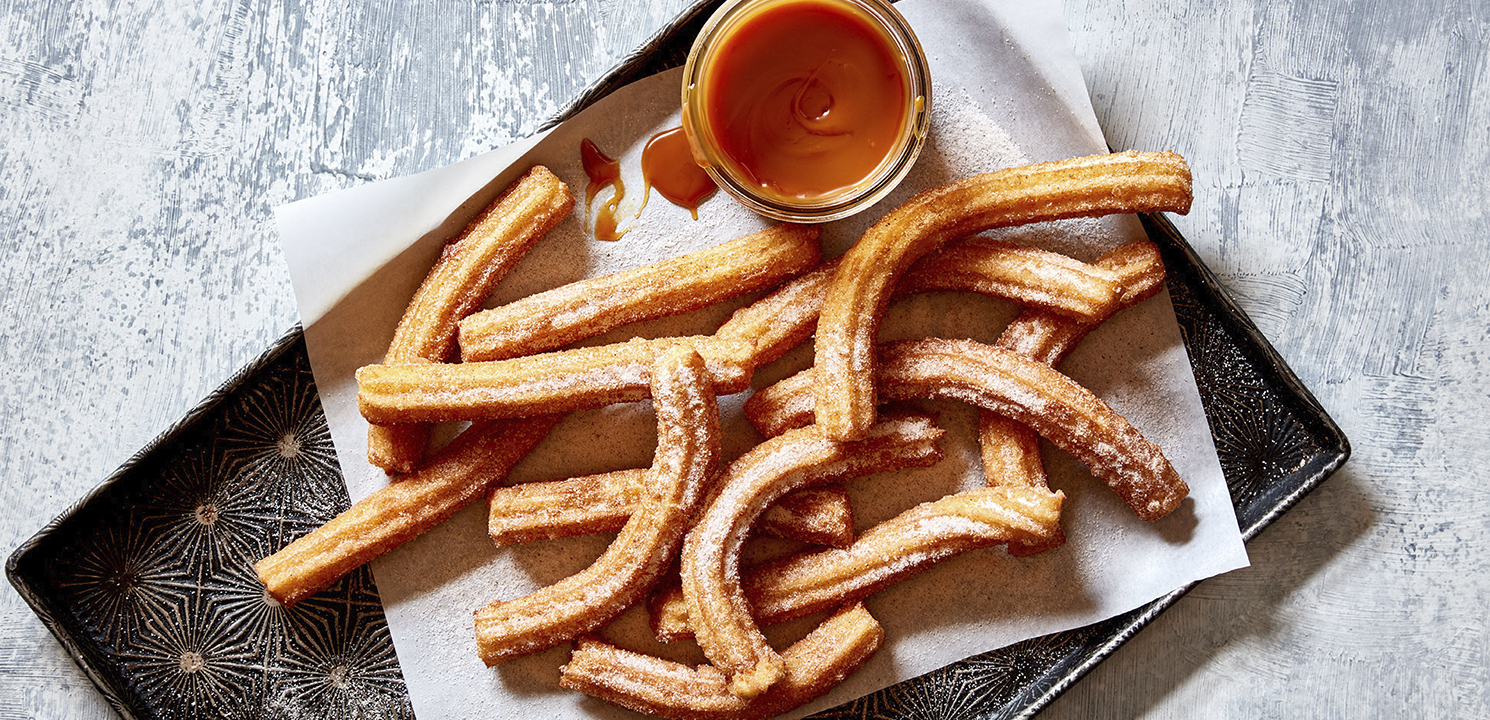 Baking & Desserts
Homemade Churros with Salted Caramel Sauce
Prep 35 mins. /Cook 20 mins.
Difficult
Homemade Churros with Salted Caramel Sauce
Method
---
Pastry
Place the flour into the bowl of an electric mixer. In a small saucepan add the butter and water and bring to the boil. Straight away pour into the mixing bowl with the flour and mix to form a smooth paste. Transfer the batter into a piping bag fitted with a star piping tip and set in the fridge for 30 minutes to rest.

To make the caramel sauce, pour the sugar into a medium saucepan in an even layer. Heat over medium heat until the sugar melts, swirling the pan occasionally until the sugar turns a deep golden colour – (See tip 2). Once the sugar has reached this point add the butter. Be very careful, as the caramel will bubble. Whisk in the butter until it has completely melted. Remove from heat and pour in the cream. Again the caramel will bubble so be very careful. Whisk until you have a smooth sauce. Add the salt. Cool slightly before transferring into a heat- proof container.

Mix the sugar and cinnamon on a plate

Heat the oil in a medium saucepan until it has reached 180°C. Fry the churros 3 at a time. Pipe out 5-inch lengths of the batter directly into the hot oil using a pair of scissors to snip off the end from the piping bag. Fry for around 4 minutes or until golden. Remove and place on paper towel to drain any excess oil.

Roll in the cinnamon sugar and serve with the salted caramel sauce.
More Tips
Tip 1- if you are short on time use store bought caramel sauce
Tip 2 - once cooked your sugar should be a deep red golden colour. When adding cold ingredients like cream and butter to hot sugar you need to be very careful as bubbling will occur. If the caramel seizes up when the cream is added, just keep whisking over a low heat and it will melt again.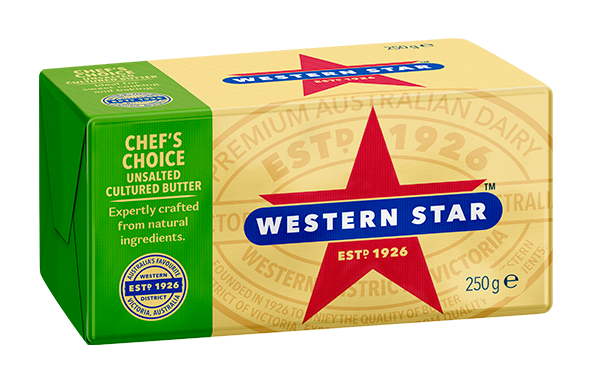 IN THIS RECIPE
Chef's Choice Unsalted Cultured Butter
Western Star Chef's Choice Premium Cultured Unsalted is a premium quality butter that's noted for its extra creamier continental taste and texture. A creamier fresh tasting butter that's versatile and ensures great results every time.
LEARN MORE
More Baking & Desserts recipes
Should I grease my baking tins?
This helps stop food sticking. Brush the tin with melted butter or use some baking paper with a little butter on it to rub around the inside of the tin.