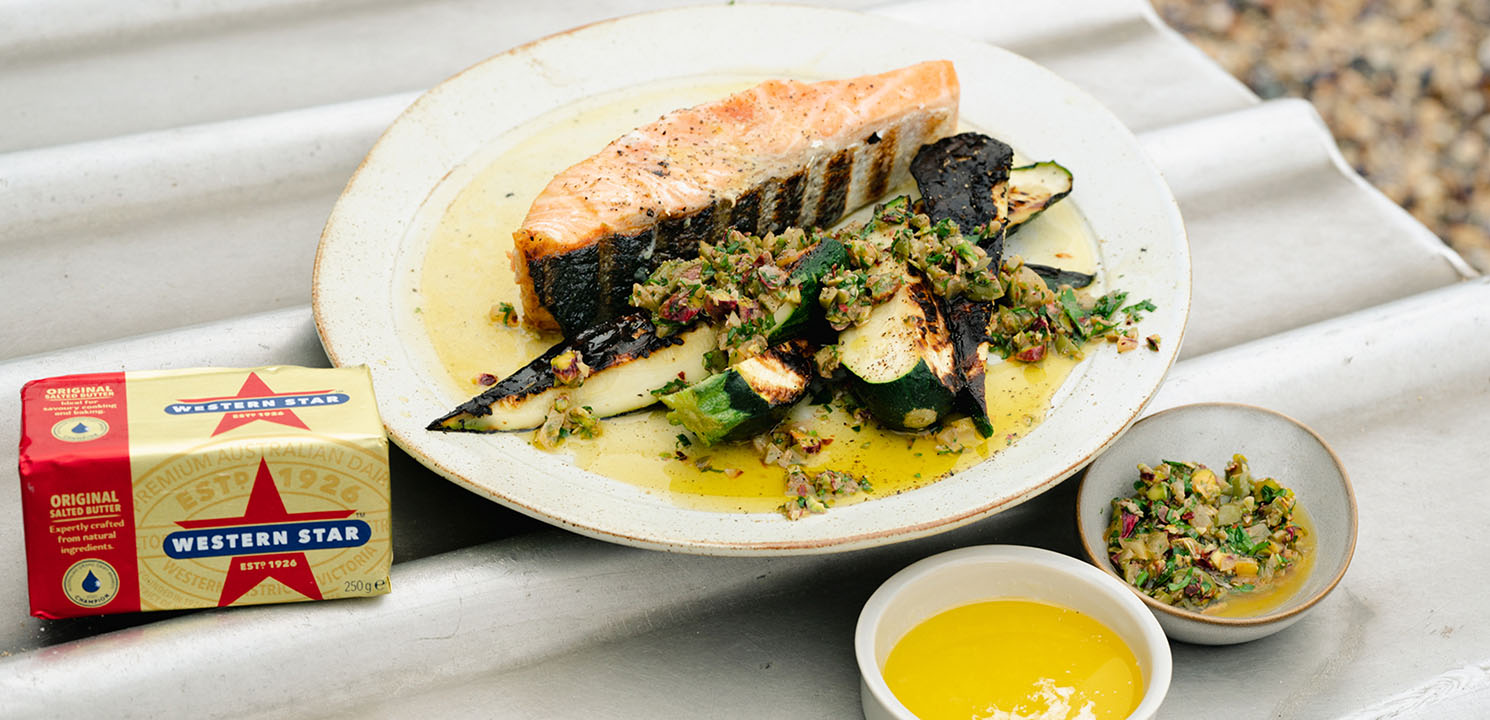 Mains
Lemon Butter Salmon with Pistachio + Preserved Lemon Salsa
Prep 10 mins. /Cook 10 mins.
serves 4
Easy
Lemon Butter Salmon with Pistachio + Preserved Lemon Salsa
Method
---
Preheat BBQ to a medium heat, leaving a section clear to have a cooler space.

Heat a medium sized frying pan over medium heat. Add the pistachios to the pan and cook, tossing, for 5 minutes, until lightly toasted all over. Tip onto a chopping board and finely chop. Add to a bowl along with the remaining ingredients for the Pistachio + Preserved Lemon Salsa. Mix well and allow to sit and marinade until ready to serve.

Season the salmon and zucchini on both sides with salt and pepper, generously drizzle over the olive oil and massage into the salmon flesh and the skin and into the zucchini. Add the salmon to the BBQ grill, skin side down for 4 minutes, until the skin is crisp enough to lift up off the grates without sticking. Flip the salmon and cook for another 2-4 minutes, until browned on the top and cooked to your liking. Grill the zucchini on the grill at the same time for 2-3 minutes each side until charred and tender. Slice zucchini into smaller, bite size pieces and set aside, ready for serving.

For the lemon butter, heat the butter in a small saucepan over medium heat for 2-3 minutes, swirling the pot often, until butter is slightly golden. Remove from the heat and add the lemon juice, stirring to combine.

Drizzle the lemon butter over the salmon and zucchini, then spoon over the Salsa, to serve.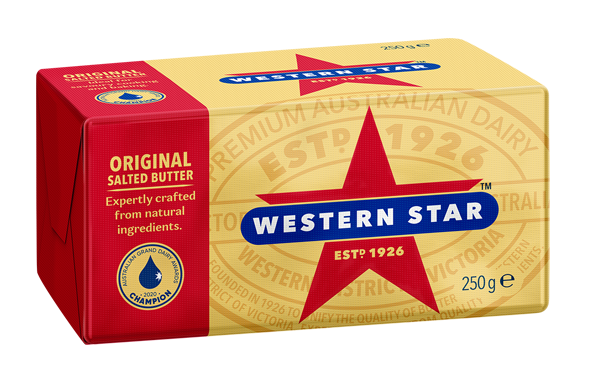 IN THIS RECIPE
Original Salted Butter
Salted butter is a versatile cooking staple. Expertly crafted at Cobden, Western Victoria, from only two natural ingredients, Australian cream and salt, to deliver a classic, pure creamery butter with a rich satisfying, five-star taste. This pure salted butter enhances the flavour of food while adding an exceptional creamy texture. Winner of Champion Butter at the 2020 Australian Grand Dairy Awards, this product sets the benchmark by which all other butters are judged. Western Star has been Crafting Butter in Victoria since 1926 when the leading butter makers in the Western District came together. Over 95 years later and trusted for generations, Western Star truly is Australia's Favourite.
LEARN MORE
More Main recipes
Cooking pasta?
Toss a knob of butter through pasta or couscous before serving for a glossy sheen and delicious buttery flavour!