Method
---
With Mum or Dad's help, preheat the oven to 160°C and grease a 20cm round cake tin and line with baking paper.

Beat all the cake ingredients in the bowl of an electric mixer on low, so that no flour escapes! Once you start to see everything come together, turn the speed up to high and continue to beat until well mixed.

Carefully pour the mixture into the cake tin, and ask your Mum or Dad to transfer into the oven to bake for 1 hour or until golden and risen. Let the cake cool completely while you make the icing.

To make the icing, use a big wooden spoon to mix the butter in a large bowl until very soft and creamy. Add the icing sugar, and using all your muscles, keep mixing until well combined.

Once the cake has cooled, spread the icing over the cake, and enjoy a slice!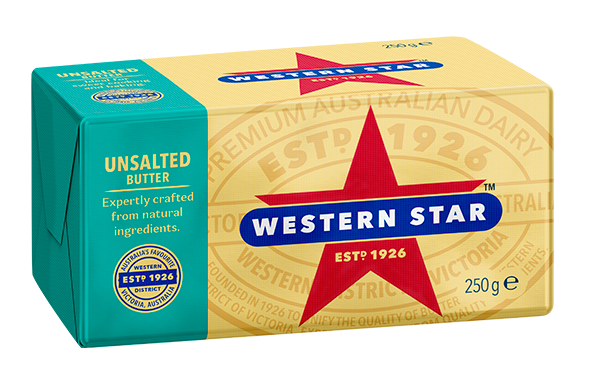 IN THIS RECIPE
Unsalted Butter
Western Star Unsalted is a great regular unsalted butter that is suitable for everyday cooking and baking needs.  It allows the cook to regulate the seasoning required for the dish.  Expertly crafted from one natural ingredient.
LEARN MORE
More Baking & Desserts recipes
Should I grease my baking tins?
This helps stop food sticking. Brush the tin with melted butter or use some baking paper with a little butter on it to rub around the inside of the tin.