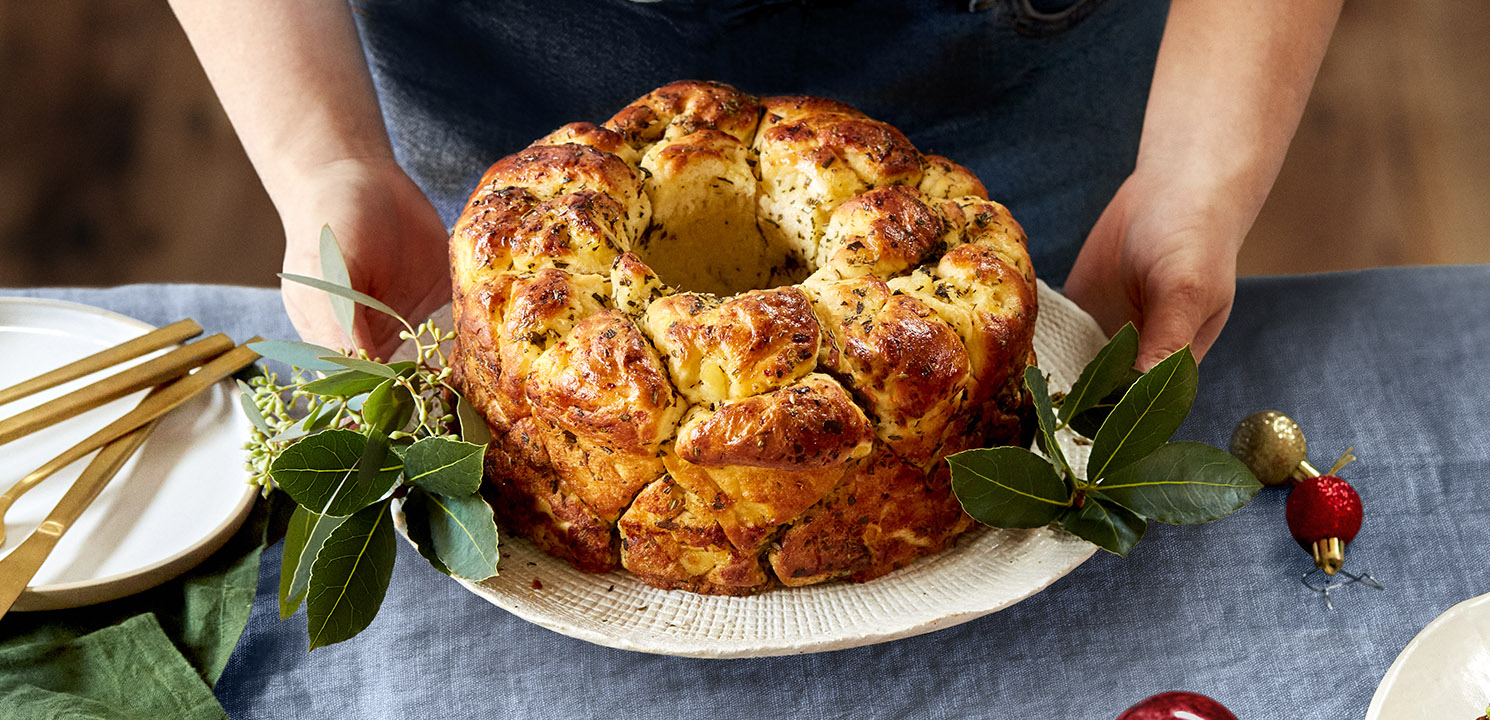 Snack, Sides and Starters
Sage, Thyme and Roasted Garlic Bread Wreath
Prep 15 mins. /Cook 30 mins.
serves 12
Easy
Sage, Thyme and Roasted Garlic Bread Wreath
Method
---
Preheat oven to 200C. Using a fork prick the potatoes all over and place onto a baking tray. Roast for 1 hour or until tender. Scoop potato from the skins and leave to cool.

While the potatoes are cooking cut the top off a whole head of garlic and drizzle with olive oil. Wrap in foil and place into the oven for 30-40 mins. Cloves should be soft and lightly browned. Squeeze garlic from cloves and place with potatoes.

Place half of the milk into a small saucepan and bring to the boil. Remove from heat and add the butter and sugar. Once butter is melted add the remaining milk and yeast, stir to combine. Set aside for 5 mins.

Place the flour, eggs, and milk mixture into the bowl of an electric mixer fitted with a dough hook and mix for about 5 mins or until dough is smooth. Transfer dough to a lightly oiled bowl, cover with glad wrap and leave in a warm place to rise for 30 – 40 mins. It should almost double in size.

Add the potato and garlic to the dough and kneed to combine. Roll the dough into 1 tbsp portioned balls.

Line a 23cm round cake tin with baking paper, allowing 4cm to sit above the tin. Grease a ramekin that is at least 8- 10 cm tall and 8 cm wide and place into the centre of the tin. Melt the butter in a small bowl and combine with chopped herbs. Roll the balls of dough in the herb mix and place into the cake tin. Cover with glad wrap and place in a warm spot for 30 mins or until risen.

In a small bowl combine the ingredients for the Lemon, Garlic butter and transfer to a small ramekin to serve.

Preheat oven to 180C and bake bread for 20-25 mins, until golden and cooked through. Remove ramekin and allow to cool for 10 mins before turning out. Serve with Lemon Myrtle butter.
More Tips
Use as a centre piece for the table decorated with extra herbs or Christmas decorations
Try experimenting with different herbs or lemon zest.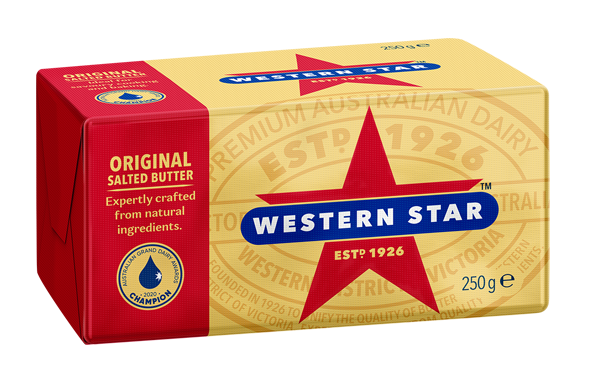 IN THIS RECIPE
Original Salted Butter
Western Star is Australia's favourite butter. It's a classic, pure creamery butter with a rich satisfying, five-star taste. Winner of Champion Butter at the 2019 Australian Grand Dairy Awards, this product sets the benchmark by which all other butters are judged. Expertly crafted from only two natural ingredients, cream and salt.
LEARN MORE
More Snack, Sides and Starters recipes
Saute with butter
Melt butter on a medium heat. The butter must be hot otherwise it will be absorbed and the food becomes soggy rather than crispy. The food should "sizzle" when added to the pan.