Method
---
Blanch noodles in boiling water for 2-3 minutes until soft and separated, drain. Use kitchen scissors to chop the noodles into short lengths (5cm).

Toss noodles, coriander, spring onions, garlic, ginger and flour in a large bowl to combine, then mix in eggs.

Heat half the butter and oil in a frypan until bubbling, take large forkfuls of the noodle mixture and drop into the frypan flattening slightly. Gently fry for 3-4 minutes on each side until crisp and cooked, repeat with half the noodle mixture, before wiping out the pan and heating remaining butter and oil to fry the remaining noodle cakes. Drain on paper towel before serving hot with dipping sauce.

Dipping sauce: Combine sweet chilli sauce, lime juice and rind in a small bowl.
More Tips
Butter gives these noodle cakes the most delicious flavour. Adding a little oil to the butter stops the butter from burning.
Noodle cakes can be cooked ahead of time and reheated in the oven for a few minutes before serving.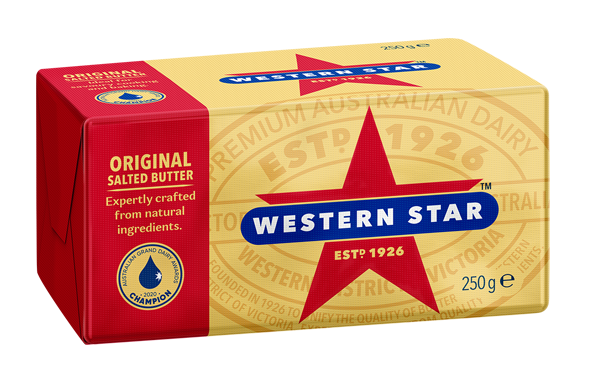 IN THIS RECIPE
Original Salted Butter
Western Star is Australia's favourite butter. It's a classic, pure creamery butter with a rich satisfying, five-star taste. Winner of Champion Butter at the 2019 Australian Grand Dairy Awards, this product sets the benchmark by which all other butters are judged. Expertly crafted from only two natural ingredients, cream and salt.
LEARN MORE
More Mains recipes
Forgot the garlic bread?
Combine Western Star spreadable with garlic, finely grated Parmesan cheese and chopped parsley and spread generously between slices of baguette. Wrap in foil and bake until golden and crunchy.