Method
---
Note: This recipe requires brining and resting time
To make the brine, place all of the ingredients into a small pan with ½ litre water. Set over a medium high heat and cook until the sugar and salt dissolve. Set aside and allow to cool.

Pour the brine into a large, non-reactive container or bowl. Add 1 ½ litres of cold water and stir to combine. Place the turkey into the brine and top with a plate to submerge it. Cover and refrigerate for 12–24 hours.

Preheat oven to 180°c. Remove the turkey from the brine. Rinse and pat dry well with kitchen paper.

To cook the turkey, place a large, heavy-based frying pan over a medium high heat Add half of the Western Star Spreadable to the pan and allow it to start bubbling. Add the turkey, skin side down. Cook for 4 minutes or until nicely browned. Repeat on all sides until evenly coloured.

Transfer to a heavy-based roasting pan that fits the turkey snugly. Keep the frying pan and its buttery juices for later. Roast for 1 hour or until cooked through and reaching 74c on a meat thermometer. If the base starts to brown too much during cooking, add a few tablespoons of water to the pan. You want some juice there, but don't want it to burn. Set aside to rest for 20 minutes.

For the gravy, place the used frying pan over a medium heat and add the garlic, thyme and remaining Western Star Spreadable. Stir until caramel coloured and frothing. Add the flour and cook for a minute while stirring. Add the wine and allow it to reduce for a few seconds, then add the stock. Tip in the pan juices from the rested turkey and stir until combined.

Take the gravy off the heat and add a squeeze of lemon juice to taste. Remove the garlic and thyme and transfer to a warmed jug.

Slice the turkey and place on a warm platter. Place the greens and lemon around and sprinkle with a few thyme sprigs. Spoon some of the gravy on top and serve the remainder separately.
More Tips
You can brine the turkey in a jumbo-sized snap-lock bag placed in a roasting tin.
Leftover brined turkey makes a great Boxing Day sandwich. Grab a baguette and slather with some Western Star Spreadable. Just add sliced turkey, cranberry sauce and a handful of rocket leaves.
For a delicious pie filling, chop up leftover turkey meat and mix it through the gravy with some chopped cooked vegetables.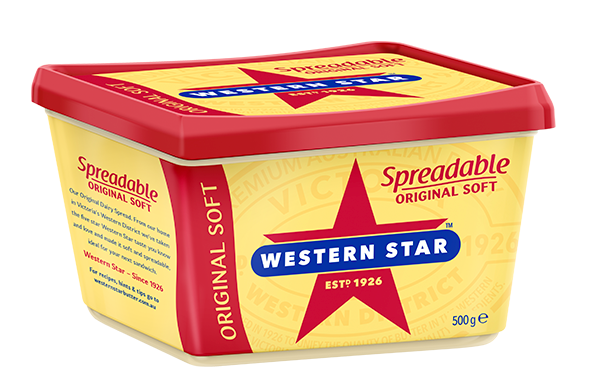 IN THIS RECIPE
Spreadable Original Soft
We've taken the five-star Western Star taste you know and love and made it soft and spreadable. Ideal for sandwiches, toast, pancakes and more.
LEARN MORE
More Mains recipes
Traffic light vegetables
A great side dish for kids. Cut zucchini, carrot and red capsicum into thin sticks or rounds (snow peas are great too), then sauté in butter and garlic until tender and fragrant.