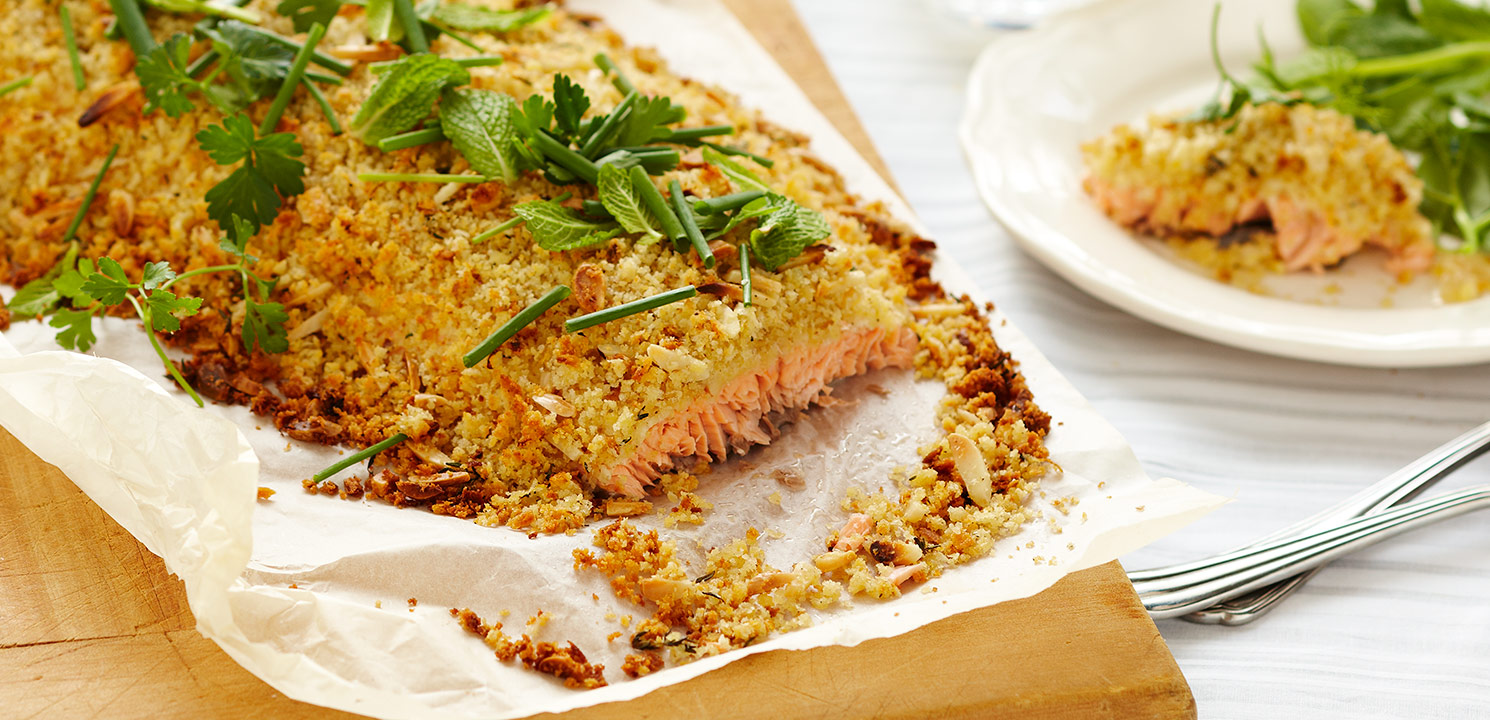 Mains
Whole Atlantic Salmon Fillet with Almond, Thyme and Lemon Crust
Prep 5 mins. /Cook 15 mins.
Serves 6-7
Easy
Whole Atlantic Salmon Fillet with Almond, Thyme and Lemon Crust
Method
---
Note: this recipe requires an additional 10 minutes for resting.

Gently heat butter and garlic in a saucepan until butter has melted. Combine breadcrumbs, almonds, thyme, lemon and pepper in a large bowl and stir in butter.

Place the salmon skin side down on a baking paper lined oven tray. Press breadcrumbs over the fish to completely cover. Bake at 220°C for 12-15 minutes or until just cooked. Rest for 10 minutes before scattering with fresh herbs, slicing and serving with lemons.
More Tips
Impress your guests by bringing the whole salmon fillet to the table and serving it up infront of them.
This crust is also delicious used on individual portions of salmon.
Breadcrumb crust can be made a day ahead and refrigerated in an airtight container.
Try serving this salmon with a salad of blanched peas, asparagus, green beans or broad beans with a zesty lemon dressing and scattered with marinated feta.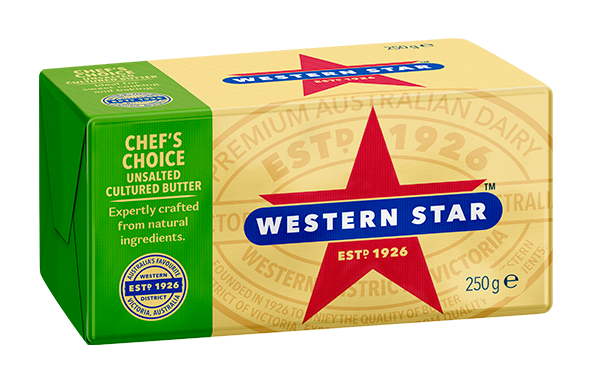 IN THIS RECIPE
Chef's Choice Unsalted Cultured Butter
When you really want your pastry and baking to shine, unsalted cultured butter delivers with that sought after creamier fresh tasting butter that is versatile and ensures great results every time. As an unsalted butter, Chef's Choice allows you full control over the seasoning of your dish. Winner of the Champion Butter award at the 2018 Australian Grand Dairy Awards, Western Star Chef's Choice Unsalted Cultured Butter is a premium quality butter, celebrated for its extra creamy continental taste and texture. Western Star has been Crafting Butter in Victoria since 1926 when the leading butter makers in the Western District came together. Over 95 years later and trusted for generations, Western Star truly is Australia's Favourite
LEARN MORE
More Mains recipes
Chicken and Mushroom Risotto
Make Dinner a Winner with Chicken and Mushroom Risotto and Western Star™ Butter.
Reheating Hollandaise or Béarnaise sauce?
Never microwave! These are fragile emulsions and will split. Reheat by gently whisking over a double boiler on low heat. If the emulsion begins to split, try whisking in a spoonful of warm water, never add more butter.