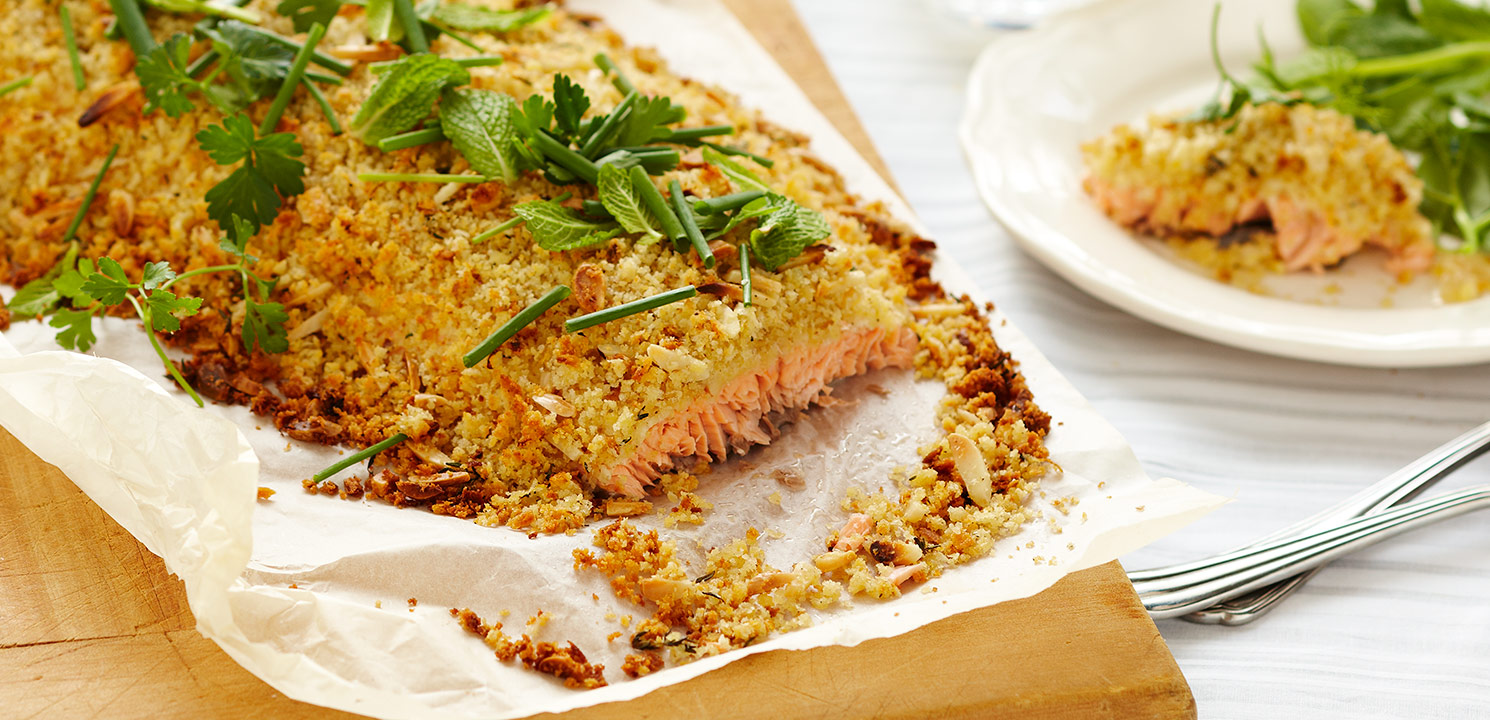 Mains
Whole Atlantic Salmon Fillet with Almond, Thyme and Lemon Crust
Prep 5 mins. /Cook 15 mins.
Serves 6-7
Easy
Whole Atlantic Salmon Fillet with Almond, Thyme and Lemon Crust
Method
---
Note: this recipe requires an additional 10 minutes for resting.

Gently heat butter and garlic in a saucepan until butter has melted. Combine breadcrumbs, almonds, thyme, lemon and pepper in a large bowl and stir in butter.

Place the salmon skin side down on a baking paper lined oven tray. Press breadcrumbs over the fish to completely cover. Bake at 220°C for 12-15 minutes or until just cooked. Rest for 10 minutes before scattering with fresh herbs, slicing and serving with lemons.
More Tips
Impress your guests by bringing the whole salmon fillet to the table and serving it up infront of them.
This crust is also delicious used on individual portions of salmon.
Breadcrumb crust can be made a day ahead and refrigerated in an airtight container.
Try serving this salmon with a salad of blanched peas, asparagus, green beans or broad beans with a zesty lemon dressing and scattered with marinated feta.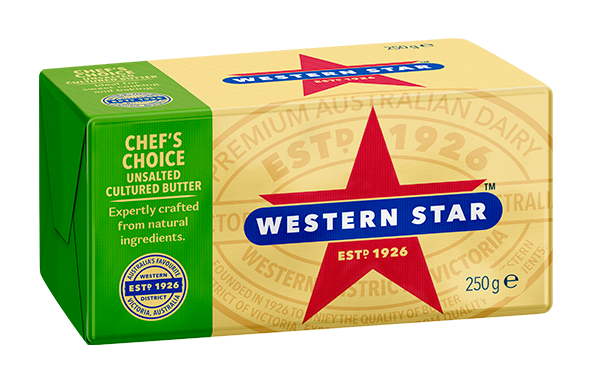 IN THIS RECIPE
Chef's Choice Unsalted Cultured Butter
Western Star Chef's Choice Premium Cultured Unsalted is a premium quality butter that's noted for its extra creamier continental taste and texture. A creamier fresh tasting butter that's versatile and ensures great results every time.
LEARN MORE
More Mains recipes
A new BBQ favourite
Stand out at your next barbecue by making a quick basting butter. Combine melted butter with flavours of choice; try chilli, garlic, lime and coriander. Brush over cooked meats or seafood as soon as they come off the barbecue for a mouth-watering flavour kick.
Chicken and Mushroom Risotto
Make Dinner a Winner with Chicken and Mushroom Risotto and Western Star™ Butter.