Method
---
Place potatoes in a saucepan of cold water and bring to the boil, season with salt. Simmer until tender. Drain and return potatoes to saucepan. Shake saucepan over low heat to remove any remaining moisture from potatoes.

Mash potatoes using a potato masher. Add butter and mix vigorously with a wooden spoon until smooth.

Add hot milk to potatoes and continue to stir until smooth and creamy. Season to taste. Use as required.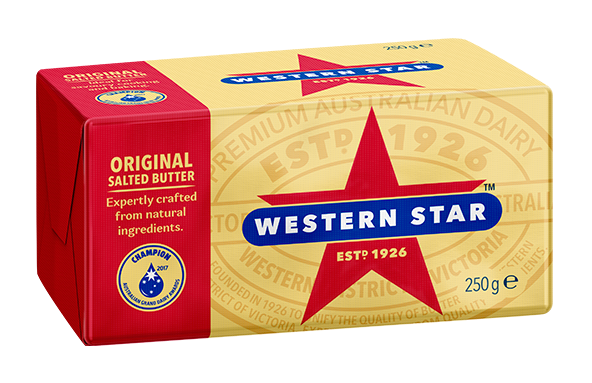 IN THIS RECIPE
Original Salted Butter
Western Star is Australia's favourite butter. It's a classic, pure creamery butter with a rich satisfying, five-star taste. Winner of Champion Butter at the 2019 Australian Grand Dairy Awards, this product sets the benchmark by which all other butters are judged. Expertly crafted from only two natural ingredients, cream and salt.
LEARN MORE
More Snack, Sides and Starters recipes
Dry roast chicken?
Avoid a dry chicken by stuffing some flavoured butter under the skin before roasting. Simply ease your fingers under the skin of the chicken breast to create a pocket (without breaking through) and fill it with softened flavoured butter. The butter bastes and flavours the chicken as it cooks leaving you with a moist and tender roast!
Mustard and Herb Butter, Ham and Roasted Capsicum Sandwiches
Mustard and Herb Butter, Ham and Roasted Capsicum Sandwiches made with Western Star Spreadable Original.