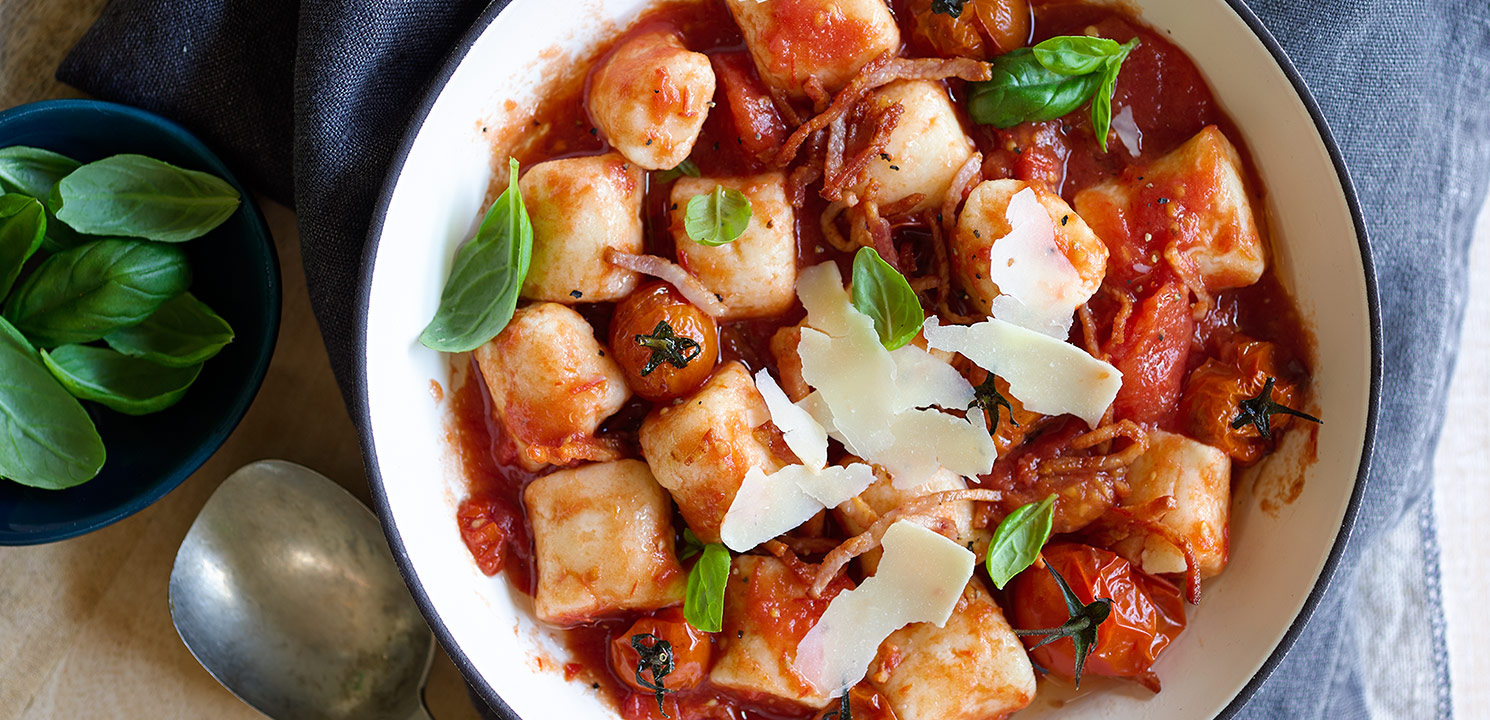 Mains
Ricotta Gnocchi with Bacon, Roast Tomato & Basil
Prep 30 mins. /Cook 30 mins.
serves 3-4
Easy
Ricotta Gnocchi with Bacon, Roast Tomato & Basil
Method
---
Preheat the oven to 200C.

Place the tomatoes onto a large baking tray lined with baking paper. Drizzle with 1 tbsp of olive oil and place into the oven to roast for 20 minutes or until the tomatoes begin to collapse. Remove from the oven and set aside.

Place the Perfect Italiano™ Ricotta, grated Parmesan, egg and flour into a bowl and mix until combined. If the mixture feels too wet, add some more flour until you have a sticky dough that comes away from the sides of the bowl. Divide the mixture into 4, and roll each portion into thin lengths. Cut 2 cm size pieces from each length to form the gnocchi. Place the gnocchi onto a floured tray.

Fill a large pot with water, cover, and bring to the boil. Add one-quarter of the gnocchi and cook for 2-3 minutes or until they rise to the surface. Transfer to a plate lined with paper towel. Repeat, in 3 more batches, with the remaining gnocchi.

Add 1 tbsp of olive oil into a large frying pan over a medium heat. Add the bacon and fry until it begins to turn golden. Add half of the roasted tomatoes and squash with the back of a fork to form a sauce. Add the butter and stir until melted. Season with salt and pepper.

Add the cooked gnocchi to the sauce and stir gently to coat. Add the remaining tomatoes and serve with a scattering of basil and the shaved Parmesan cheese.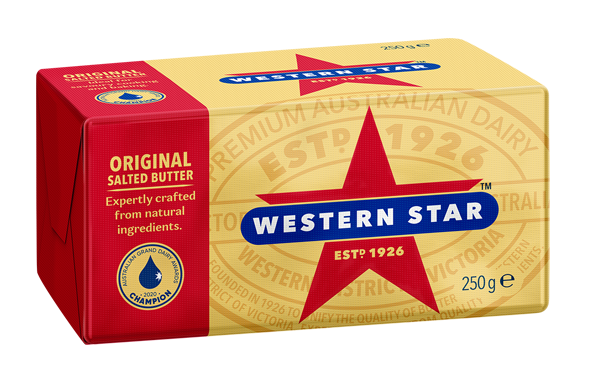 IN THIS RECIPE
Original Salted Butter
Western Star is Australia's favourite butter. It's a classic, pure creamery butter with a rich satisfying, five-star taste. Winner of Champion Butter at the 2019 Australian Grand Dairy Awards, this product sets the benchmark by which all other butters are judged. Expertly crafted from only two natural ingredients, cream and salt.
LEARN MORE
More Mains recipes
Dry roast chicken?
Avoid a dry chicken by stuffing some flavoured butter under the skin before roasting. Simply ease your fingers under the skin of the chicken breast to create a pocket (without breaking through) and fill it with softened flavoured butter. The butter bastes and flavours the chicken as it cooks leaving you with a moist and tender roast!