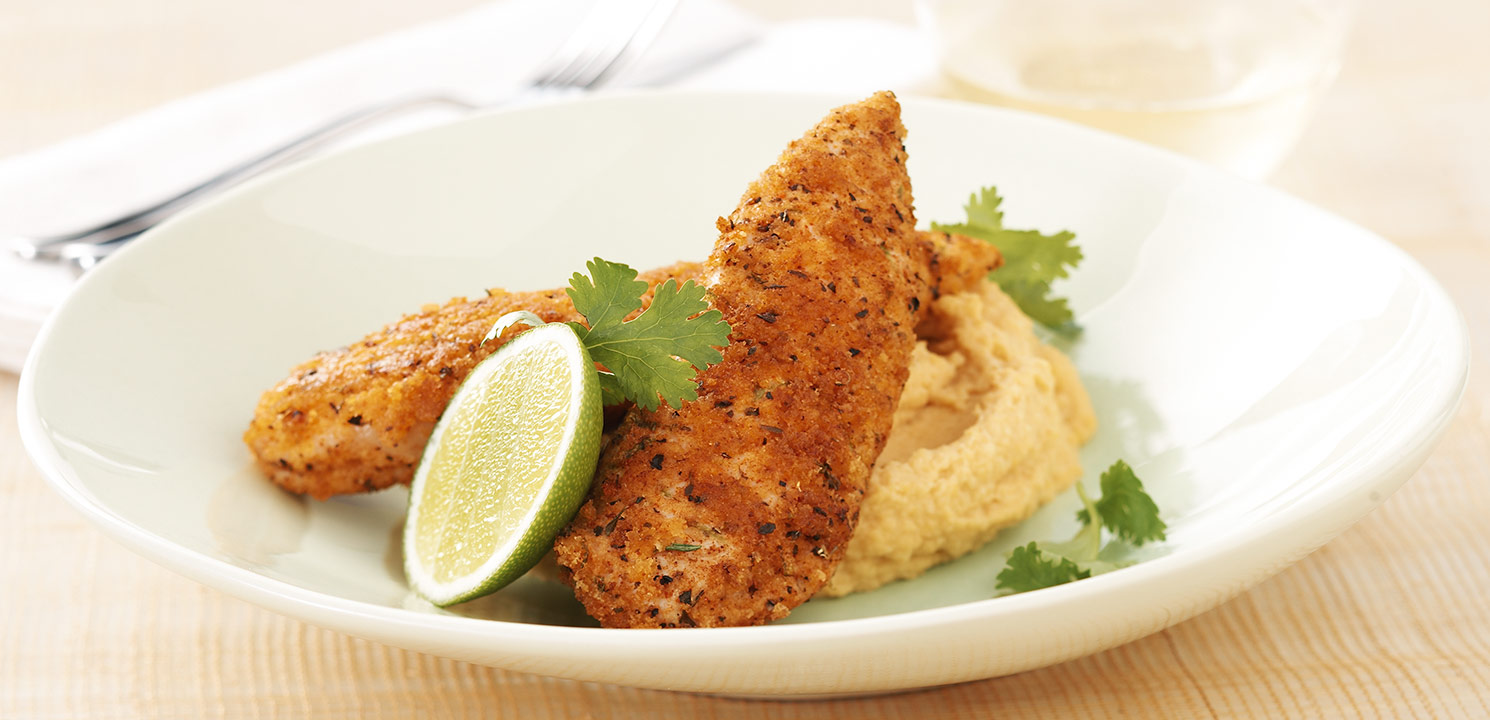 Mains
Crisp Cajun Chicken with Chickpea and Garlic Mash
Prep 20 mins. /Cook 15 mins.
Serves 4
Easy
Crisp Cajun Chicken with Chickpea and Garlic Mash
Method
---
Combine breadcrumbs, seasoning and lime rind in a large bowl. Dip tenderloins into mixture, coat well, shaking off excess. Refrigerate until required.

Pour boiling water over the chickpeas and stand for 5 minutes. Drain. Blend chickpeas, lemon juice and garlic in a food processor until smooth, gradually pour in 75g melted Western Star Butter in a slow, thin stream, while motor is running.

 Melt remaining butter and oil in a frypan and shallow fry chicken until golden and cooked. Serve chicken on a bed of chickpea mash, garnished liberally with coriander.
More Tips
The Chickpea & Garlic Mash also makes a delicious warm dip served with fresh pita bread.
The Mash can also be made ahead of time and warmed in a microwave before serving.
Chicken can be crumbed ahead and kept refrigerated until required.
Use 12 smaller tenderloins if desired.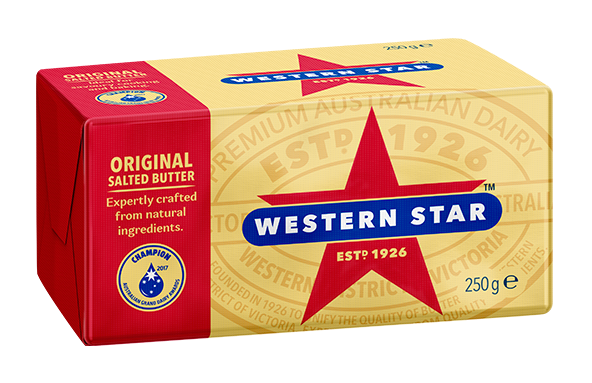 IN THIS RECIPE
Original Salted Butter
Western Star is Australia's favourite butter. It's a classic, pure creamery butter with a rich satisfying, five-star taste. Winner of Champion Butter at the 2016 Australian Grand Dairy Awards, this product sets the benchmark by which all other butters are judged. Expertly crafted from only two natural ingredients, cream and salt.
LEARN MORE
More Mains recipes
Delicious slow roasted tomoatoes
Simply slice roma tomatoes in half, lay cut side up on a lined baking tray, season with salt and pepper, and top each tomato with a slice of garlic and a knob of butter. Bake at 140°-150°C for 1-2 hours or until done to your liking. Use in salads, antipasto or simply enjoy on fresh bread!