Method
---
Marinate chicken in paste and yoghurt for approximately 1 hour.

Melt 20g butter in a frying pan over a medium heat, brown the chicken on all sides, remove from pan. Wipe pan clean and add remaining 20g butter, onion, ginger and dry spices to the pan and cook until spices are fragrant and onions softened.

Add browned chicken, tomatoes and chicken stock to pan and bring to a simmer, cover and cook stirring occasionally for 15 minutes, remove lid and cook for a further 15 minutes until chicken is tender and sauce is thick.

Stir cream into sauce and then whisk in cold butter, one cube at a time until incorporated and creamy. Simmer for 1-2 minutes until warmed through.

Serve curry sprinkled with cashews, coriander and basmati rice.
More Tips
Butter chicken is even more delicious reheated a day later!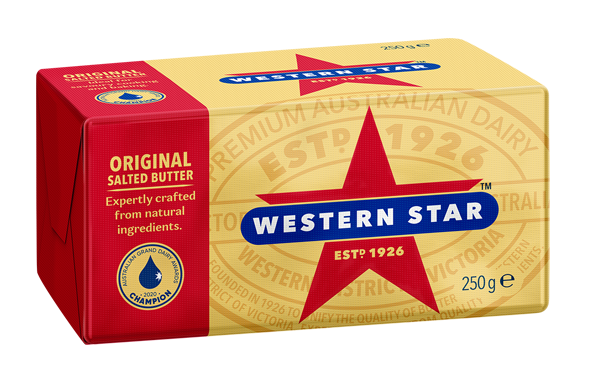 IN THIS RECIPE
Original Salted Butter
Western Star is Australia's favourite butter. It's a classic, pure creamery butter with a rich satisfying, five-star taste. Winner of Champion Butter at the 2019 Australian Grand Dairy Awards, this product sets the benchmark by which all other butters are judged. Expertly crafted from only two natural ingredients, cream and salt.
LEARN MORE
More Mains recipes
Making a sauce?
Enrich wine based sauces by whisking in a large knob of cold butter at the very end, it will give your sauce a richness, shine and round off any acidic flavours.
Leek and Blue Cheese Quiche
Leek and Blue Cheese Quiche cooked with Western Star Original Butter.