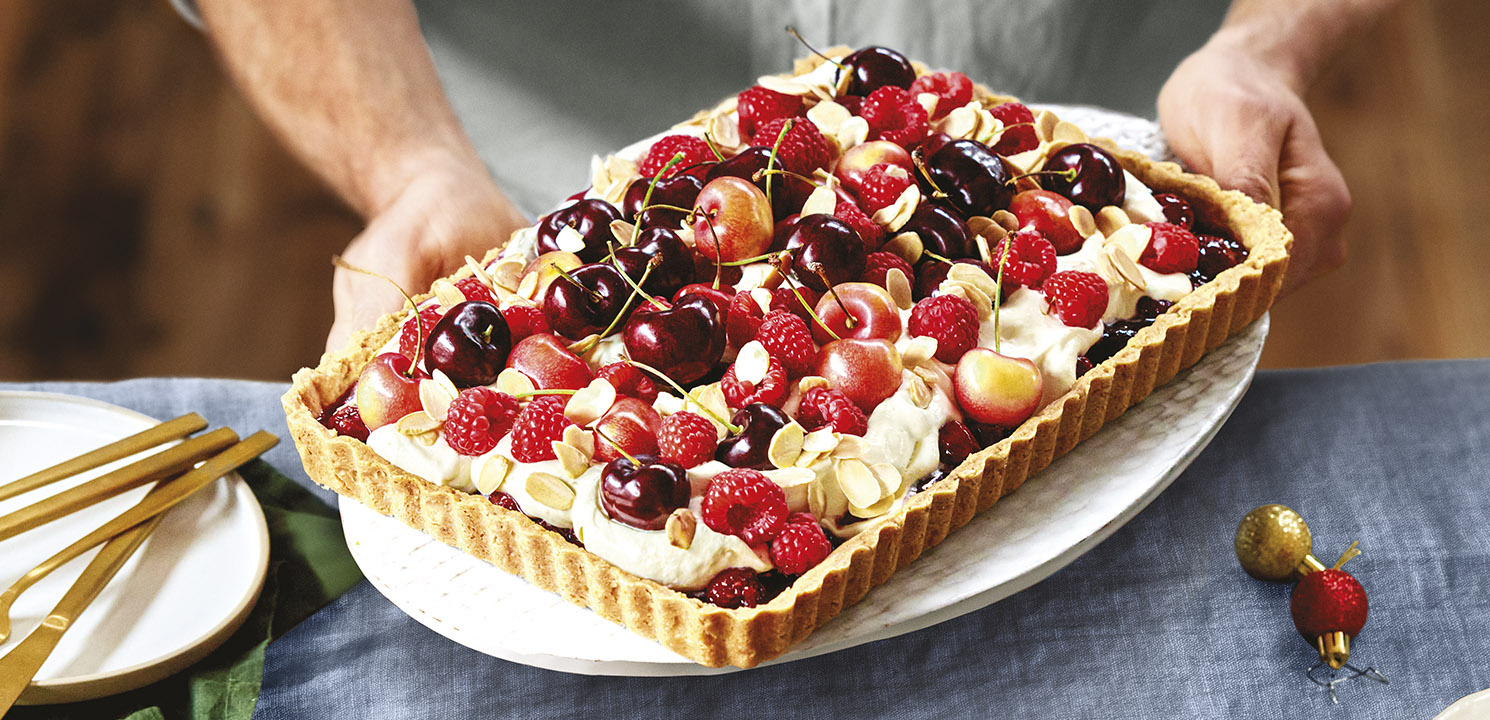 Baking & Desserts
Cherry, Raspberry and Almond Tart
Prep 50 mins. /Cook 30 mins.
Serves 6
Easy
Cherry, Raspberry and Almond Tart
Method
---
To make the cherry and raspberry jam, combine all ingredients into a saucepan and stir over medium heat. Bring to the boil and continue to cook, stirring occasionally for 8 mins. Transfer into a bowl and refrigerate for at least 1 hour.

To make the pastry, place the almonds into a food processor and blitz until the almonds resemble course breadcrumbs.

Using a stand mixer beat butter and sugar until light and fluffy, scrape down the sides of the bowl, add the flour and almonds and beat to combine. Turn the mixture out onto the bench and form a disk. Wrap in plastic wrap and place into the fridge for at least an hour.

Preheat oven to 180C. Using a rolling pin, roll out the pastry to 3mm thick. Place the pastry into a 20cm x 28cm rectangular tart tin. Trim the edges and place into the fridge for at least 20 mins. Blind bake the pastry for 10 mins, remove the weights and bake for a further 10 mins or until golden. Cool completely before filling.
More Tips
Serve lightly dusted with icing sugar.
If you have an abundance of fresh cherries and raspberries try using these in place of frozen cherries and raspberries in the jam.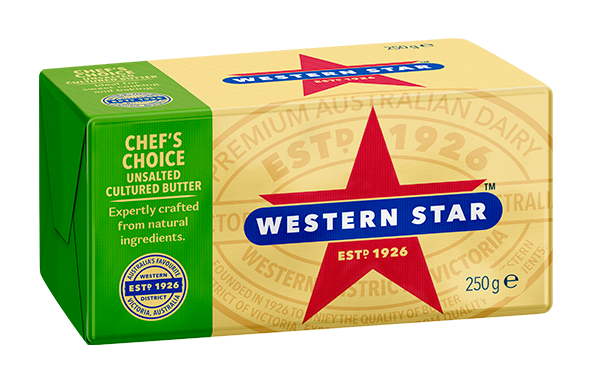 IN THIS RECIPE
Chef's Choice Unsalted Cultured Butter
Western Star Chef's Choice Premium Cultured Unsalted is a premium quality butter that's noted for its extra creamier continental taste and texture. A creamier fresh tasting butter that's versatile and ensures great results every time.
LEARN MORE
More Baking & Desserts recipes
Which butter should I use to make sweet pastries?
We recommend Chef's Choice - it's higher fat content and creamier finish makes it ideal for sweet pastries.