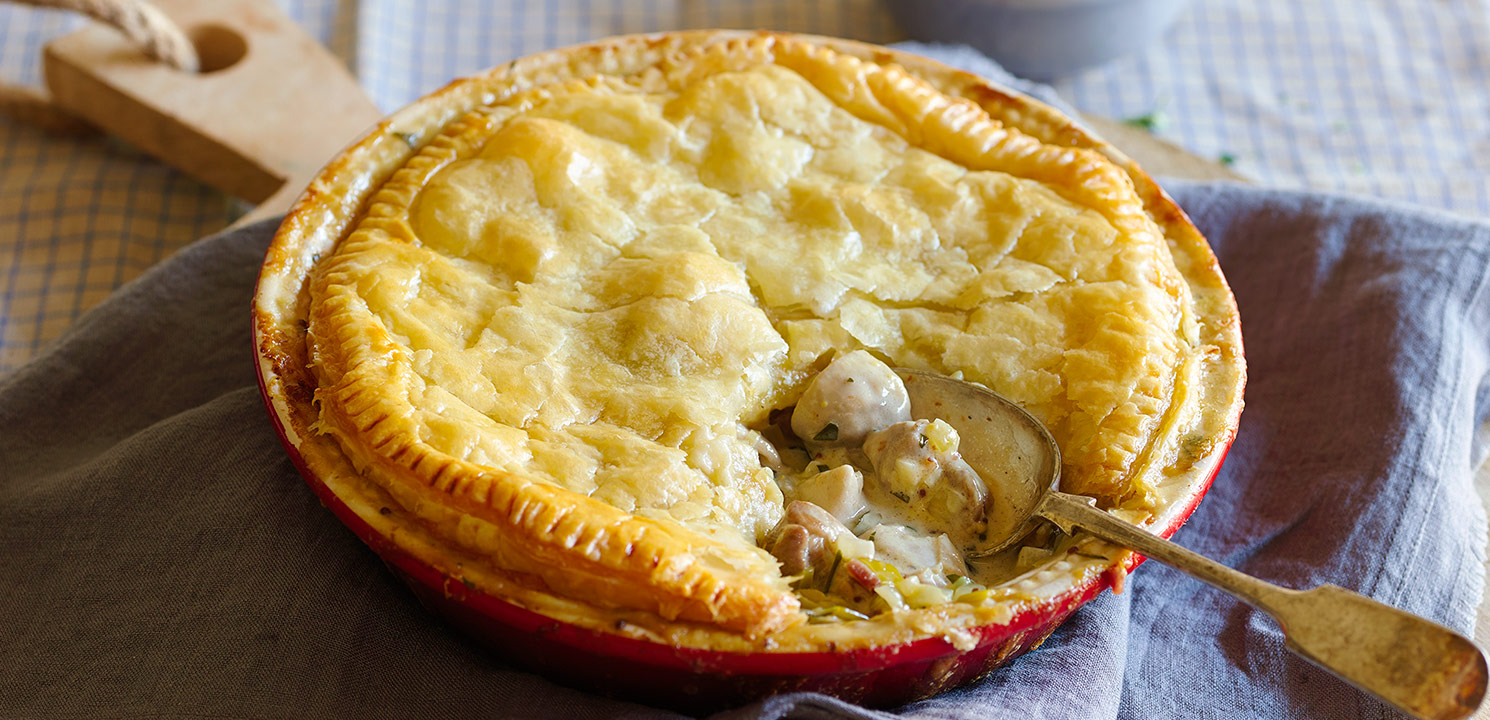 Mains
Chicken Pie
Prep 15 mins. /Cook 1h 0 mins.
serves 4
Easy
Chicken Pie
Method
---
Preheat the oven to 180C.

Place a large frying pan over a medium heat. Add the olive oil and butter to the pan and heat until the butter melts and starts to foam. Add the leek and onion and fry for 4-5 minutes or until they begin to soften. Add the garlic, mushrooms, bacon and chicken and continue to cook for 5-6 minutes or until the bacon and chicken begins to turn golden. Add the wine and simmer for 2 minutes until the liquid reduces.

Stir through the mustard and sprinkle over the flour. Stir for 2 minutes, making sure all ingredients are coated. Add the cream, thyme and parsley and then season with salt and pepper. Cook, stirring constantly, for another 2-3 minutes or until the sauce starts to thicken.

Spoon the chicken mixture into a pie dish and cover with pastry. Trim any excess pastry, and with the back of a fork, press the pastry against the pie dish to seal.

Carefully pierce the pastry lid with a small cross in the centre, and lightly brush the pastry with egg. Place into the preheated oven for 30-40 minutes or until puffed and golden brown.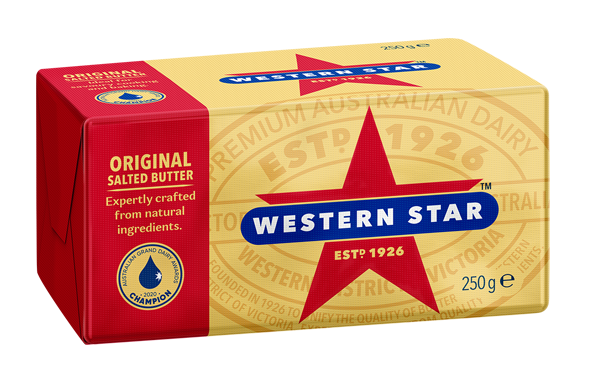 IN THIS RECIPE
Original Salted Butter
Western Star is Australia's favourite butter. It's a classic, pure creamery butter with a rich satisfying, five-star taste. Winner of Champion Butter at the 2019 Australian Grand Dairy Awards, this product sets the benchmark by which all other butters are judged. Expertly crafted from only two natural ingredients, cream and salt.
LEARN MORE
More Mains recipes
Add extra flavour to filo
When brushing filo pastry sheets with butter for savoury applications, try melting the butter in the microwave with a bruised clove of garlic, for a little extra flavour!