Method
---
Preheat the oven to 190°C. Line two large baking trays with baking paper and set aside.

Beat the butter, vanilla and sugar in the bowl of an electric mixer until creamy. Add the eggs and continue to beat until combined. Add the plain flour, cocoa, baking powder and coconut and mix until combined. Finally, add the milk chocolate chips and orange zest, and gently mix until evenly distributed.

Roll tablespoons of the mixture into balls and place onto the prepared baking tray. Leave a 2 – 3 cm gap between the biscuits and flatten each slightly.

Place the trays into the oven for 10 – 12 minutes or until the biscuits are lightly browned. Remove from the oven and cool for 5 minutes. Transfer the biscuits onto a wire rack to cool completely.

Melt the white chocolate in a heatproof bowl over a pan of simmering water. When the chocolate melts and becomes smooth, remove from the heat and cool for 5 minutes. Use a spoon (or piping bag with a small nozzle attachment) to make white chocolate crosses over each biscuit.

Set the biscuits aside for 20 minutes or until the chocolate has set.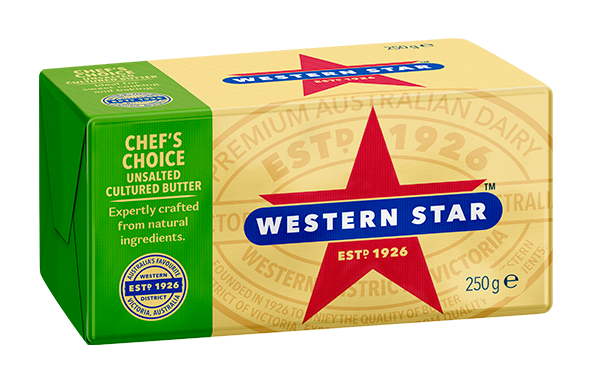 IN THIS RECIPE
Chef's Choice Unsalted Cultured Butter
When you really want your pastry and baking to shine, unsalted cultured butter delivers with that sought after creamier fresh tasting butter that is versatile and ensures great results every time. As an unsalted butter, Chef's Choice allows you full control over the seasoning of your dish. Winner of the Champion Butter award at the 2018 Australian Grand Dairy Awards, Western Star Chef's Choice Unsalted Cultured Butter is a premium quality butter, celebrated for its extra creamy continental taste and texture. Western Star has been Crafting Butter in Victoria since 1926 when the leading butter makers in the Western District came together. Over 95 years later and trusted for generations, Western Star truly is Australia's Favourite
LEARN MORE