Snack, Sides and Starters
Chorizo and Roasted Capsicum Pull Apart Tree
Prep 30 mins. /Cook 25 mins.
Makes 20-22 buns
Easy
Chorizo and Roasted Capsicum Pull Apart Tree
Method
---
Note: This recipe requires proving time
Heat 125ml milk until warm. Place into a bowl with the sugar and yeast. Stir to combine and set aside for 5 minutes or until frothy.

Place the flour and salt into the bowl of a stand mixer with the dough hook attached. Add the frothy mixture and mix.

Once combined, add the beaten eggs and butter. Mix until the dough is coming away from the sides of the bowl. Add the chorizo and capsicum and mix until evenly combined. Cover loosely and leave to prove for an hour.

Preheat oven to 180°c. Knock the air out of the dough by giving it a quick knead, then divide it into 23 even pieces, approximately 40g each.

Shape 21 pieces of dough into rounds balls and use the 2 remaining pieces to make a rectangular shape for the tree base.

Line a large baking sheet with baking paper and carefully arrange the pieces into a Christmas tree shape. Start with the rectangular piece on the bottom. Top this with 6 dough balls, then a row of 5 balls above it, then 4, until you get to the top of the tree. Leave to prove for 15 minutes.

Mix the egg yolk and 2 tsp milk together and gently brush over the proven buns. Bake for 20-25 minutes or until risen and golden. Decorate with sprigs of rosemary and a sprinkling of salt flakes. Serve hot or warm.
More Tips
Try experimenting with different flavours, such as bacon, cheddar, olives and herbs.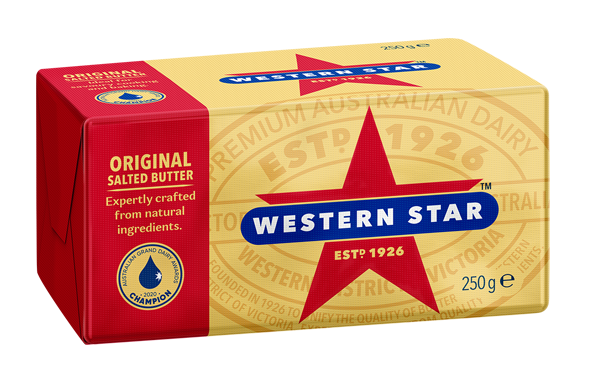 IN THIS RECIPE
Original Salted Butter
Western Star is Australia's favourite butter. It's a classic, pure creamery butter with a rich satisfying, five-star taste. Winner of Champion Butter at the 2019 Australian Grand Dairy Awards, this product sets the benchmark by which all other butters are judged. Expertly crafted from only two natural ingredients, cream and salt.
LEARN MORE
More Snack, Sides and Starters recipes
Making a sauce?
Enrich wine based sauces by whisking in a large knob of cold butter at the very end, it will give your sauce a richness, shine and round off any acidic flavours.