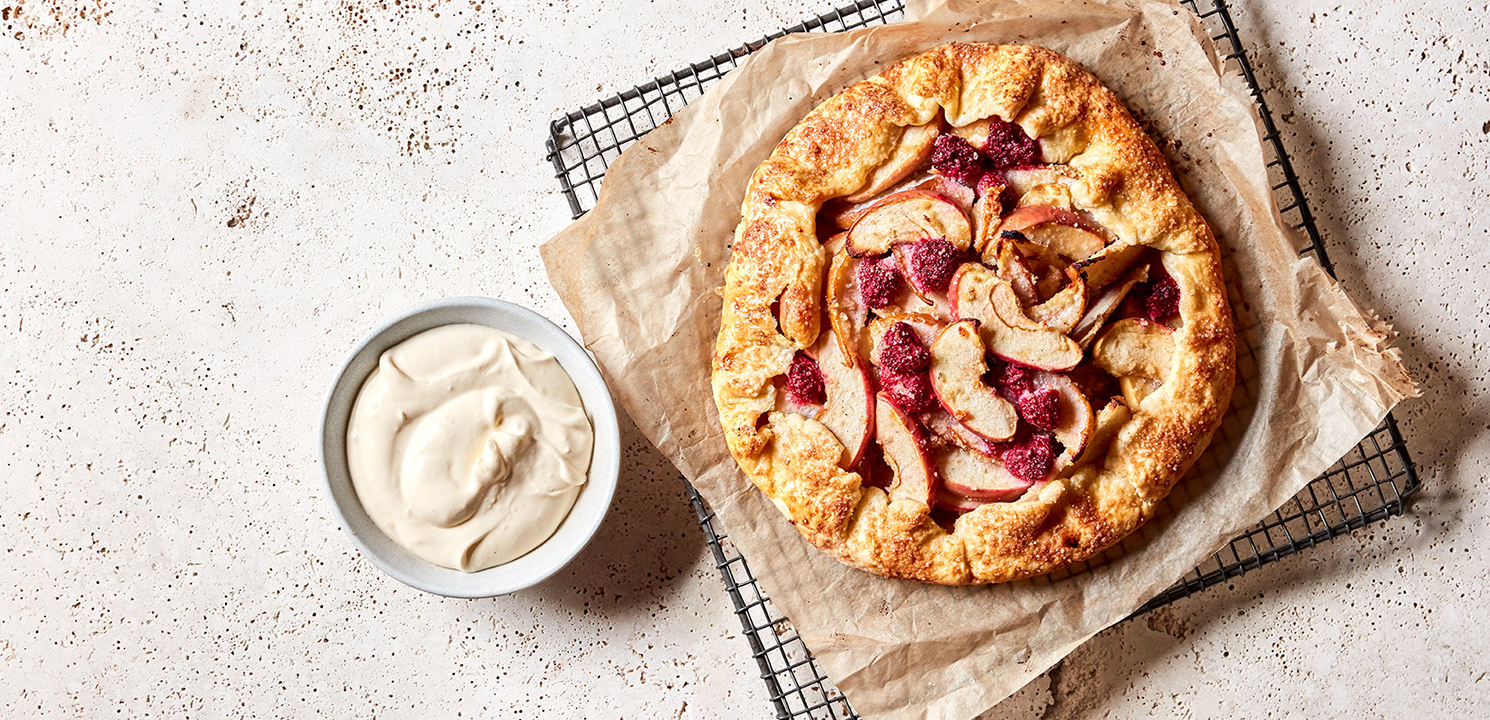 Baking & Desserts
Golden Crostata with winter fruits
Prep 30 mins. /Cook 35 mins.
Serves 8
Easy
Golden Crostata with winter fruits
Method
---
Preheat oven to 190C. Line a large baking tray with baking paper.

To make the pastry place flour and butter into the base of a large food processor and blitz until mixture resembles coarse breadcrumbs. With the processor going, add the water and vinegar. Blitz until mixture just comes together being careful not to over mix. Wrap dough in plastic wrap and refrigerate for 30 minutes.

Meanwhile, in a large bowl, mix together fruit, almond meal, sugar and vanilla bean paste. Set aside.

Place pastry onto a lightly floured surface and roll pastry into a circle until it is about 5mm thick. Carefully place pastry onto the prepared tin. Pile the fruit mixture into the center of the pastry leaving about a 4 cm around the edge. Fold edges of pastry over towards the fruit, pleating pastry together as you work around. Dot pieces of butter on top of the fruit mixture and sprinkle with extra sugar. Lightly brush egg over pastry. Place into the oven and bake on the bottom shelf for 40 minutes or until pastry is golden and fruit has cooked. Serve at room temperature alongside Western Star Cream.
More Tips
Try using different fruits such as nectarines, peaches and plums for a different twist!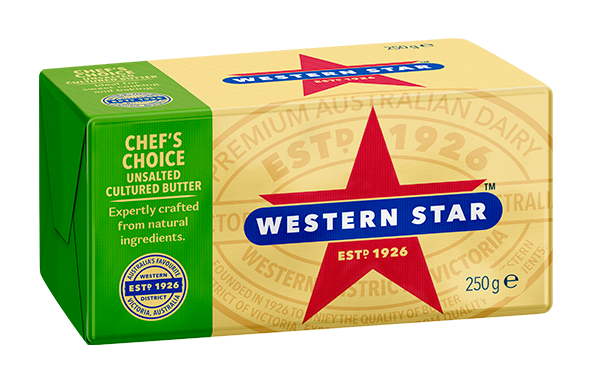 IN THIS RECIPE
Chef's Choice Unsalted Cultured Butter
When you really want your pastry and baking to shine, unsalted cultured butter delivers with that sought after creamier fresh tasting butter that is versatile and ensures great results every time. As an unsalted butter, Chef's Choice allows you full control over the seasoning of your dish. Winner of the Champion Butter award at the 2018 Australian Grand Dairy Awards, Western Star Chef's Choice Unsalted Cultured Butter is a premium quality butter, celebrated for its extra creamy continental taste and texture. Western Star has been Crafting Butter in Victoria since 1926 when the leading butter makers in the Western District came together. Over 95 years later and trusted for generations, Western Star truly is Australia's Favourite
LEARN MORE
More Baking & Desserts recipes
Which butter should I use to make sweet pastries?
We recommend Chef's Choice - it's higher fat content and creamier finish makes it ideal for sweet pastries.