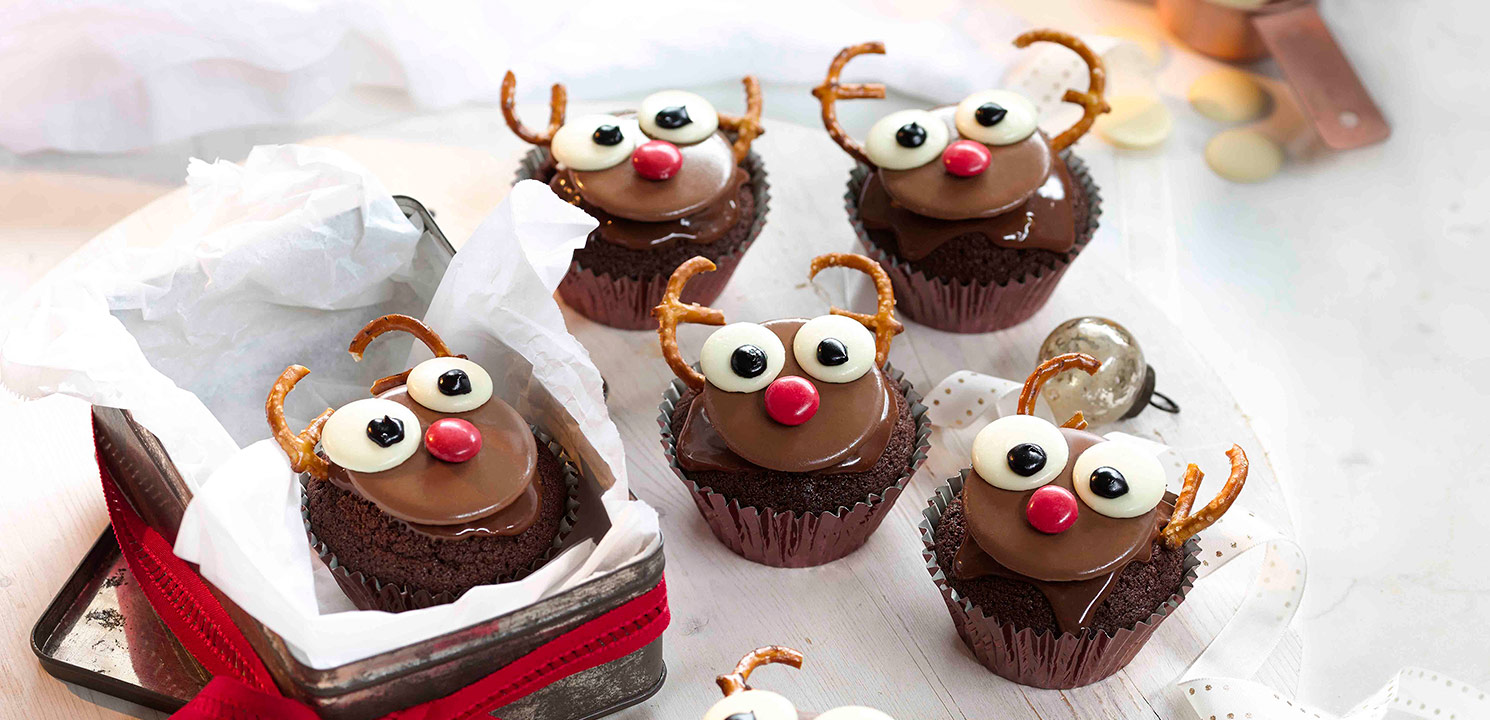 Baking & Desserts
Rudolph Cupcakes
Prep 35 mins. /Cook 25 mins.
serves 12
Easy
Rudolph Cupcakes
Method
---
Preheat the oven to 180°C. Line a 12-hole muffin tin with brown or red patty cases.

Place the flour, sugar, baking powder, bicarbonate of soda, cocoa, butter, eggs, vanilla extract and sour cream in a food processor. Process for 1 minute or until a thick batter forms. Divide the batter evenly between the patty cases until they are each ¾ full. Bake for 20 minutes or until the cupcakes have risen and a skewer inserted comes out clean. Remove from the oven and allow to cool in the tray for 5 minutes, before transferring to a cooling rack to cool completely.
Icing and Decorating the Cupcakes
To make the ganache, place the chocolate and sour cream in a heatproof bowl over a pan of simmering water. Stir with a metal spoon for 3 minutes or until the chocolate melts and becomes smooth. Remove the bowl from the heat.

Place a large milk chocolate button in the centre of each cupcake. Place two white chocolate buttons on top for eyes, using a little ganache to stick them on securely. Add a red Smartie for the nose, again using the ganache to help secure the Smartie. Use the black icing pen to draw eyes in the centre of the white chocolate buttons, and then insert two half pretzels in the cupcake for antlers.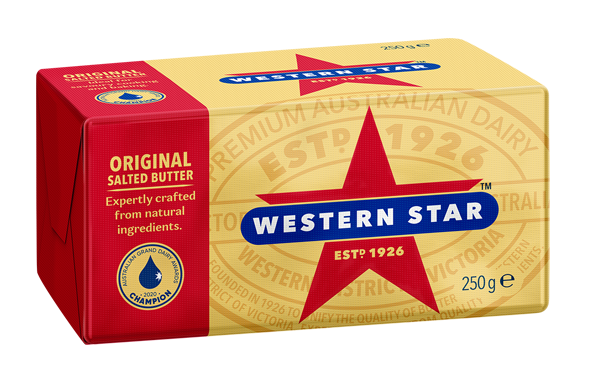 IN THIS RECIPE
Original Salted Butter
Salted butter is a versatile cooking staple. Expertly crafted at Cobden, Western Victoria, from only two natural ingredients, Australian cream and salt, to deliver a classic, pure creamery butter with a rich satisfying, five-star taste. This pure salted butter enhances the flavour of food while adding an exceptional creamy texture. Winner of Champion Butter at the 2020 Australian Grand Dairy Awards, this product sets the benchmark by which all other butters are judged. Western Star has been Crafting Butter in Victoria since 1926 when the leading butter makers in the Western District came together. Over 95 years later and trusted for generations, Western Star truly is Australia's Favourite.
LEARN MORE
More Baking & Desserts recipes
Which butter should I use to make sweet pastries?
We recommend Chef's Choice - it's higher fat content and creamier finish makes it ideal for sweet pastries.