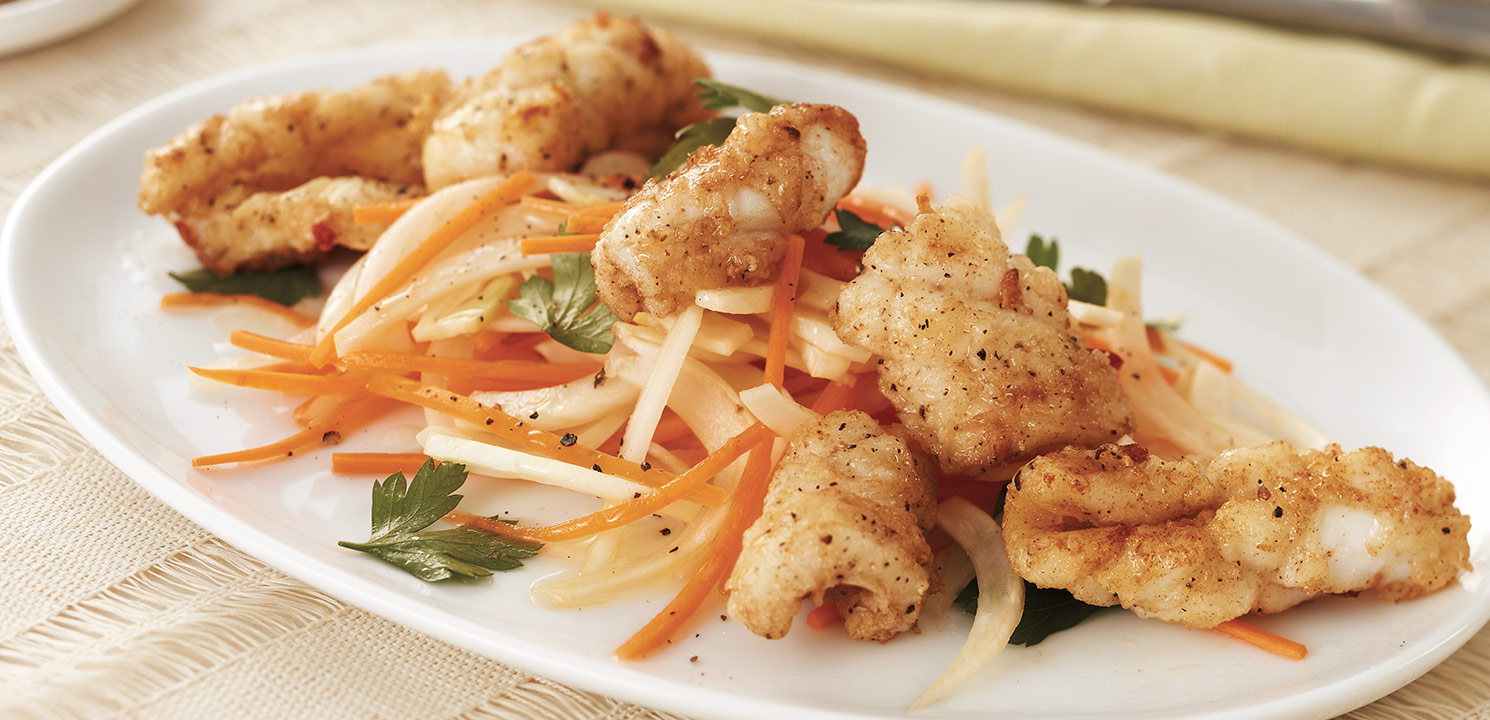 Snack, Sides and Starters
Salt & Pepper Squid with Fennel & Carrot Salad
Salt & Pepper Squid with Fennel & Carrot Salad
Method
---
Combine fennel, carrot, parsley, oil and lemon juice to make a salad.

Combine flour, salt and pepper in a bowl. Halve the calamari lengthways and score inner flesh in a criss-cross lattice pattern. Cut calamari into 5cm square pieces, and combine with garlic and chilli in a bowl for 5 minutes. Coat calamari squares in seasoned flour.

Melt half the butter and oil in a large frypan or wok until sizzling. Add half the calamari and cook over high heat until calamari has turned white and curled. Remove and keep warm.

Wipe out pan, before repeating with remaining butter, oil and calamari. Serve immediately with fennel and carrot salad.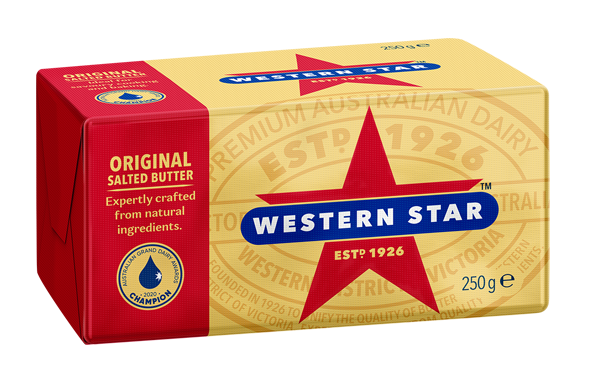 IN THIS RECIPE
Original Salted Butter
Salted butter is a versatile cooking staple. Expertly crafted at Cobden, Western Victoria, from only two natural ingredients, Australian cream and salt, to deliver a classic, pure creamery butter with a rich satisfying, five-star taste. This pure salted butter enhances the flavour of food while adding an exceptional creamy texture. Winner of Champion Butter at the 2020 Australian Grand Dairy Awards, this product sets the benchmark by which all other butters are judged. Western Star has been Crafting Butter in Victoria since 1926 when the leading butter makers in the Western District came together. Over 95 years later and trusted for generations, Western Star truly is Australia's Favourite.
LEARN MORE
More Snack, Sides and Starters recipes
Pine nut and herb crusted fish - in a hurry!
Combine melted Western Star Butter with a handful of breadcrumbs, raw pine nuts and fresh herbs of choice, press onto one side of a skinless white fish fillet. Bake at 200°C for 10-15 minutes or until golden.