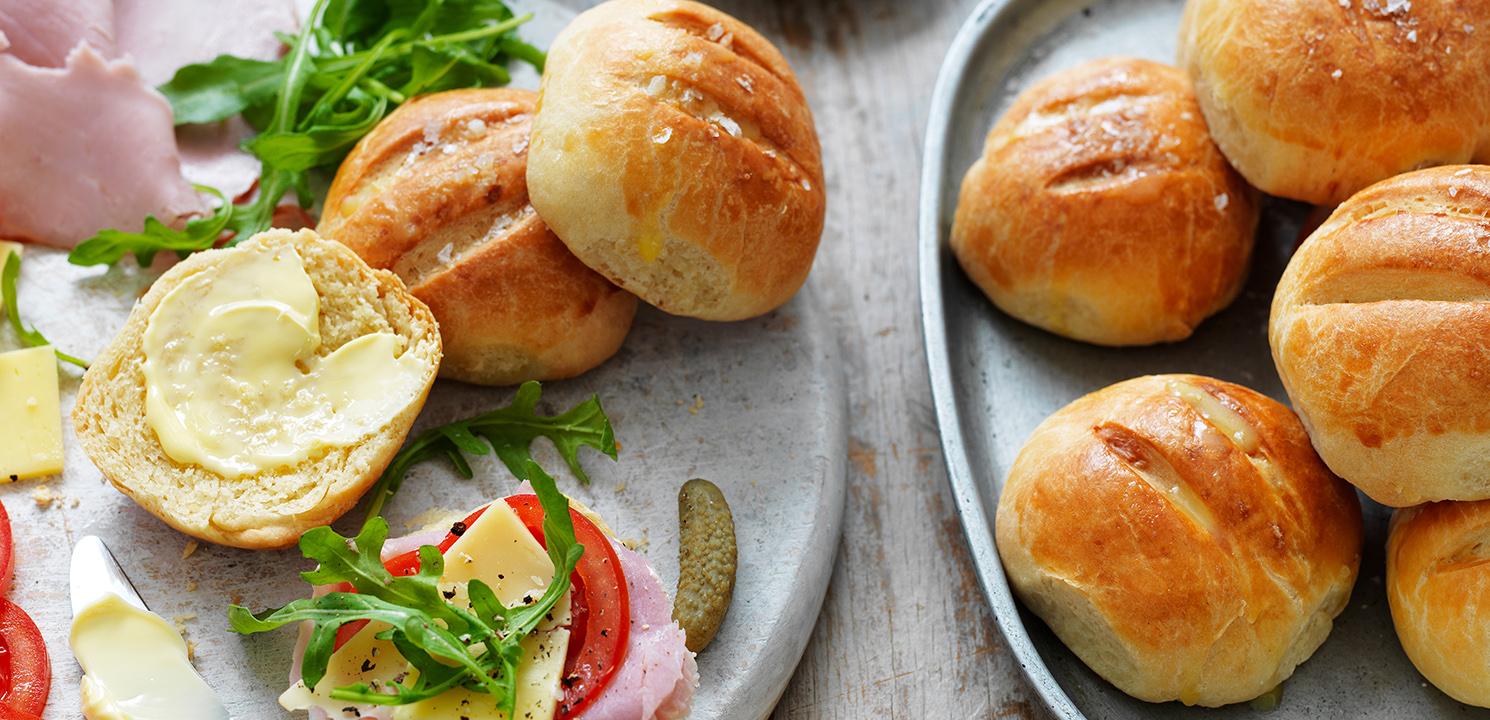 Mains
Air Fryer Bread Rolls
Prep 2h 25 mins. /Cook 30 mins.
Serves 6
Difficult
Air Fryer Bread Rolls
Method
---
Air Fryer Bread Rolls
Place water in a heatproof jug. Stir in yeast and 1 tsp of caster sugar. Set aside for 10 minutes until foamy.

Sift flour in a large bowl. Stir in remaining caster sugar and salt. Make a well in the centre. Add yeast mixture, butter and milk. Stir until mixture forms a dough.

Squeeze together in the bowl with your hands. Turn out onto a lightly floured surface and knead for 6 minutes until smooth and elastic. Spray a large bowl with cooking oil spray. Sit dough ball in bowl. Cover with plastic wrap or a tea towel and sit in a warm place for 1 hour until tripled in volume.

Punch down dough. Knead gently on a lightly floured surface into a log. Cut into 8 even pieces. Knead each piece lightly into a ball. Mark two slits into the smooth tops with a sharp knife.

Grease air-fryer basket with butter. Place dough balls in air-fryer basket. Brush liberally with egg. Cover with a tea towel or plastic wrap and sit in a warm place to prove again for 1 hour or until tripled in volume.

Air-fry on 160°C for 20-25 minutes or until golden. Tip rolls out onto a tray. Slide back into air fryer basket being careful to not burn yourself. Cook for 4-5 minutes until bases are golden. Stand until room temperature and serve with Western Star Spreadable.
More Tips
If you have a large air fryer that is also an oven. You can select the proving function to speed up the rising process. Place dough in a greased bowl, cover with a tea towel. Prove on 40°C for 45 minutes until tripled in volume.
Rolls are best eaten fresh on the day they are made. Freshen up rolls in the microwave for 10 seconds each. Rolls can be frozen on the day they are baked.
More Main recipes
Should I grease my baking tins?
This helps stop food sticking. Brush the tin with melted butter or use some baking paper with a little butter on it to rub around the inside of the tin.