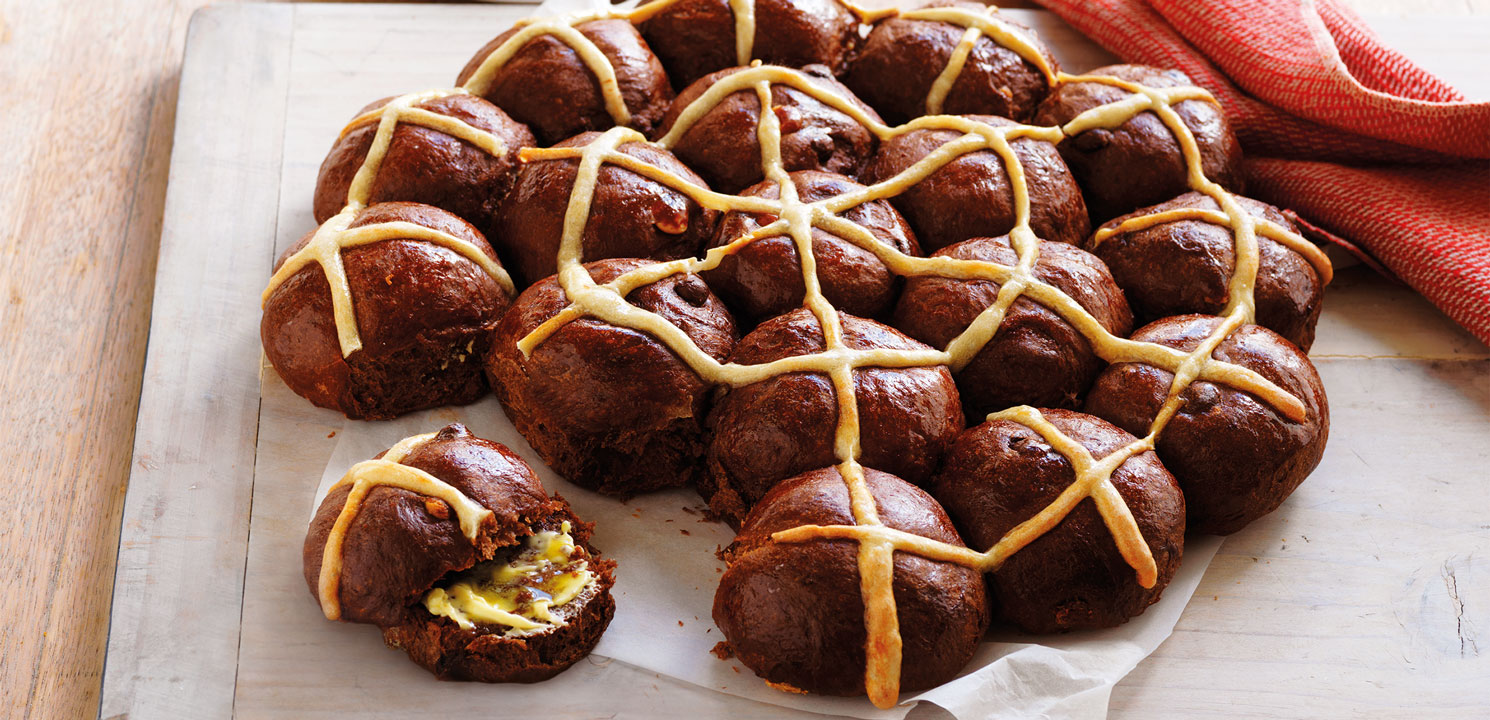 Baking & Desserts
Triple Chocolate Hot Cross Bun Pull Apart
Prep 1h 30 mins. /Cook 25 mins.
Makes 19
Average
Triple Chocolate Hot Cross Bun Pull Apart
Method
---
Combine milk and cream in a small saucepan over a medium heat for 4 minutes or until luke warm. Pour mixture into a jug. Add yeast and 1 teaspoon sugar. Whisk with a fork until combined. Stand in a warm place for 10 minutes or until frothy.

Sift flour and cocoa into a large bowl. Stir through salt and remaining sugar. Using your fingertips, rub butter into flour until mixture resembles fine breadcrumbs. Stir through chocolate chips. Add yeast mixture and egg. Stir until well combined and a soft dough forms.

Turn dough onto a lightly floured surface and knead for 5-8 minutes or until dough is smooth and elastic. Place dough into a greased bowl and cover with plastic wrap. Stand in a warm place for 40 minutes or until dough has doubled in size.

Preheat oven to 200°C. Line a large baking tray with baking paper. Punch dough down and turn onto a lightly floured surface. Knead for 2 minutes, then divide into 4 equal pieces. Shape into a rough log and cut to make 19 equal-sized pieces. Gently knead each portion into a bun and place sealed side down. Place 1 bun in the centre of prepared tray. Arrange 6 buns around the centre bun, then the remaining buns around to make 2 concentric circles. Stand in a warm place for 20 minutes or until well risen and buns puff up against each other.

Sift extra flour in a small bowl. Stir in the water until a smooth paste forms. Spoon mixture into a piping bag fitted with a small plain 3mm tip. Pipe crosses on each bun, lining up the crosses to form a pattern on the pull-apart buns. Bake for 20-22 minutes or until crosses are lightly golden, buns are well risen and cooked through.

Just before the buns are cooked, start making the glaze. Combine gelatine, extra sugar and 1 tablespoon boiling water in a small bowl. Brush mixture over buns while still hot. Transfer buns to a wire rack to cool or serve warm with Western Star Spreadable Original.
More Tips
The cream creates a richer hot cross bun, however you can substitute this with milk if you prefer.
You can substitute the Western Star Chef's Choice Butter for 80 g of Western Star Spreadable Original.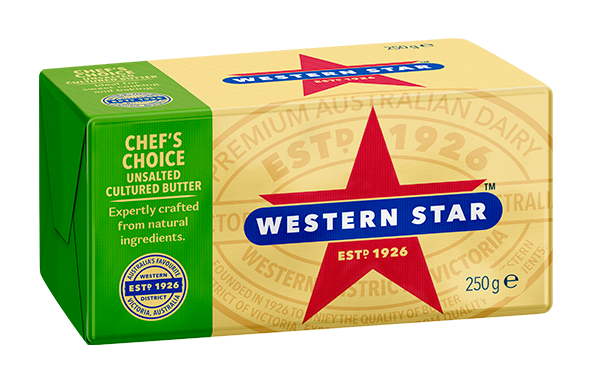 IN THIS RECIPE
Chef's Choice Unsalted Cultured Butter
Western Star Chef's Choice Premium Cultured Unsalted is a premium quality butter that's noted for its extra creamier continental taste and texture. A creamier fresh tasting butter that's versatile and ensures great results every time.
LEARN MORE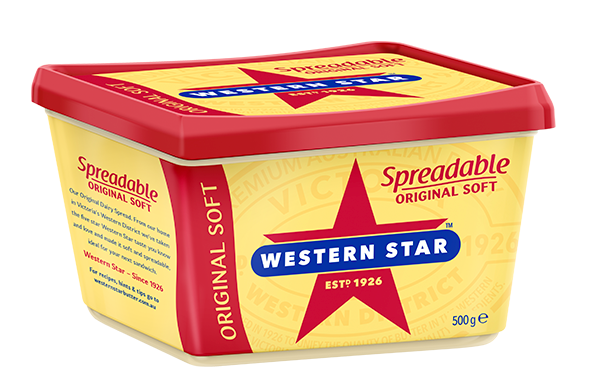 IN THIS RECIPE
Spreadable Original Soft
We've taken the five-star Western Star taste you know and love and made it soft and spreadable. Ideal for sandwiches, toast, pancakes and more.
LEARN MORE
More Baking & Desserts recipes
Forgotten to soften the butter?
Grate butter coarsely, spread onto baking paper and stand for 10 minutes before using. Alternatively chop into 2cm cubes, microwave on 30% power in 10 second bursts until just softened.